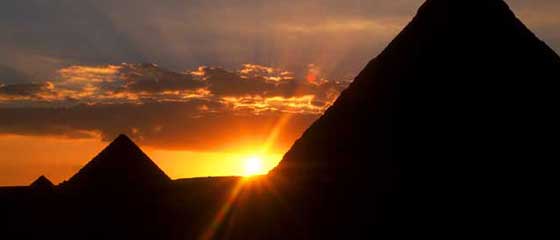 The Giza Pyramids
Although there are over a hundred pyramids in Egypt, by far the most famous are the Giza Pyramids.
Located about a twenty minute cab ride out of the city centre (dependent on traffic) and resting in the desert on the edge of the ever growing, ever encroaching city.
The Giza Pyramids plateau site contains the three most famous, and most photographed of the Egyptian pyramids, those of Khufu (Cheops), Khafre (Chephren) and Menkaure (Mycerinus); a number of ruined lesser pyramids and temples; the Great Sphinx and the Boat of Khufu (Cheops).
At present visitors pay a fee to enter the site, which will allow you to walk freely around all the ruins. There is another fee if you wish to get up close and personal with the Great Sphinx, and a further fee for the museum which houses the Boat of Khufu (Cheops).
If you wish to enter one of the pyramids (only one is usually open at a time and this is rotated), there is a further fee which varies depending on which Pyramid is open.
The inside of the pyramids are bare, dusty and claustrophobic and contain little of interest except the experience of actually being inside a pyramid.
The touts and hawkers that loiter around the Giza Pyramids are well known to be some of the most unscrupulous in the country.
Particularly those with camels. It may only cost you five pounds to get on the camel, but will cost you a whole lot more to get down again. Best to avoid. Try Sinai for a more authentic camel experience.
The Egyptian government has recently released plans to build a visitors centre and tighten security on the enclosure so all of this looks set to change.
Pyramid Entrance Prices and Times:
Site Entrance: 50 LE Solar Boat Museum Entrance: 50LE Khufu's Pyramid: 100LE Khafree's Pyramid: 20LE
Opens 0800 – 1700; 0800 – 1630(Winter); and 0800 – 1500(During Ramadan)
Each night hundreds of visitors are treated to the Pyramids sound and light show.
Any comments? Was this page useful? Please use the newly installed Facebook comment box below: