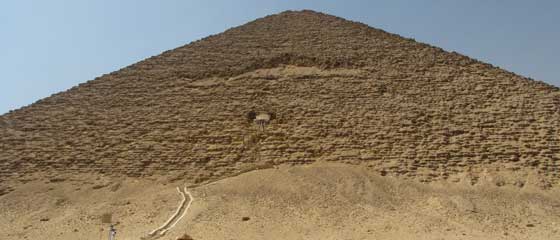 The Pyramids of Dahshur
The Giza pyramids experience is an anticlimax for many.
Despite their grandeur and majesty, the throngs of tourist and tour buses, postcard sellers and camel touts are just not part of the childhood dream. And few see them, in their mind's eye, surrounded by the city, just a stone's throw from a Pizza Hut and a KFC.
The little known pyramid complex of Dashsur is everything that Giza is not. While it may not have a sphinx to gawp at, it does have some of the most fascinating pyramids in the country.
And instead of a major fast food outlet, you'll have to settle for miles and miles of endless desert. And being that little bit harder to reach than Giza, acts a deterrent to the tour buses, meaning that there's a good chance you can fulfil that long held ambition – to be alone in the desert, just you and your camera and some of the most awe inspiring, manmade structures on earth.
Although there are number of pyramids in the region, the two most fascinating are the Red Pyramid and the Bent Pyramid, respectively one of the largest and most visually stunning in all of Egypt.
The Red Pyramid is the first structure you'll reach after entering the site (about 2km from the entrance). At 101m in height it is surpassed only by Cheop's pyramid at Giza. Although entering a pyramid is usually a claustrophobic affair, if you're going to do it anywhere then this is the place.
With so few visitors there's a reasonable chance that you'll get to be alone, deep down inside one of the largest pyramids on earth.
To the side of the Red Pyramid is a small temple that seems to exist for the purpose of generating backsheesh for the tourist police that work there, and usher you enthusiastically in its direction.
It's worth visiting just for the panoramic views across the desert at the Bent pyramid. Don't feel obliged to tip the police officers if you do, unless you allow them to guide you or take your pictures in which a case a couple of pounds is expected.
From the car park outside the Red Pyramid, a dusty track continues to the Bent Pyramid. If you follow this road around you'll reach a spectacular view across two kilometres of desert. Most taxis will leave you here where the road gets too rocky, to continue on foot.
What makes the Bent Pyramid so unique is that its angle differs from the rest of the Egyptian pyramids and rises more steeply and dramatically at the top. The limestone casing which once covered all old kingdom pyramids also remains very much intact.
Both the Red Pyramid and the Bent Pyramid were built by Snofru. The question of why he built two pyramids so close together is somewhat of a mystery and subject to debate in Egyptology.
Directions
The site is fairly remote, and can take anything from 1 to 2 hours to reach by car from Cairo, depending on traffic. Although there are mini buses from Giza to both Sakkara and Dashsur, the best way to reach Dashsur is by taxi.
There are no cars at the site so you'll need to hire a car to take you, wait for you, and then take you take you back again. It's also useful to have a car with you as the site is quite spread out and will otherwise involve considerable walking.
As the site is just five kilometres further south along the road after Sakkara, it may be worth combining a day trip to the two sites.
You can either ask your hotel to organise this, or if you want to do it on the cheap arrange it yourself with a passing taxi. Be careful though, many drivers do not actually know where the Dahshur site is and will keep stopping to ask directions.
I recently made this return trip by taxi (to Dahshur only and back to downtown cairo) for 100LE, about 12 Euros.
Entrance to the site costs 30LE or 15LE for students. If you arrive in a taxi you will need to pay an additional 2LE for the car and driver. To enter inside the Red Pyramid is free of charge.
Any comments? Was this page useful? Please use the newly installed Facebook comment box below: