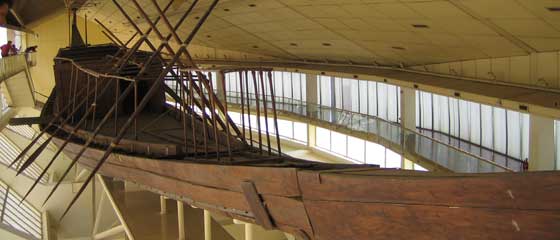 The Solar Boat Museum
The Giza Boat Museum
Also located on the Giza plateau just a short walk south of the Great Pyramid is the Solar Boat Museum. This odd shaped construction was purpose built to house the 43 metre vessel excavated in 1954 from one of the pits around Khufu's Pyramid.
Although the exact purpose of the solar boat is subject to some debate, it is thought that it may have been used as part of the pharaoh's funerary procession and then buried alongside the departed to provide transport in the afterlife.
The boat is made from cedar wood and was painstakingly reconstructed over a 14 year period by restorer Hagg Ahmed Yussef from some 1200 individual pieces of wood. At about 4500 years old this may be the oldest boat in existence and visiting the Solar boat museum is both eerie and mind boggling.
Not least because the authorities request you wear shoe protection (provided on entry) over each of your feet to better protect the ancient craft.
Entrance is 50 Egyptian pounds (concessions for students) and the site is open daily from 0900 - 1600
Any comments? Was this page useful? Please use the newly installed Facebook comment box below: