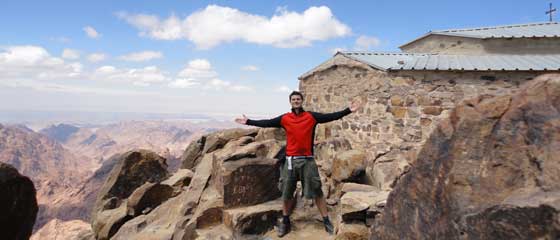 "I'm the king of the world!" - Posing shamelessly at the top of Mnt Catherine
About Us
This site is the creation and ongoing project of writer, tour leader and all round travel aficionado Tariq El Kashef (that's me above). All the words on this site are written by myself or by one of our contributors.
Please note that I am rarely able to update this website these days (Dec '14) so if you notice any inaccurate information on the site please do let me know. Thanks
Contributors
EmmaLucy Cole. Read more about Emma here
Photography
The vast majority of images on this site were taken by myself on various trips over the years. However, a number of images (largely speaking the really good ones) have been kindly donated by Damascus based photographer John Wreford.
To see more of John's work please visit his website full of stunning and evocative Middle Eastern Photography
About me:
Having spent the best part of seven years 'on the road', first as an independent traveller, and then as a professional tour leader for one of Europe's leading adventure travel specialists, I now reside in the UK (for the time being at least) where among other things, I spend my time writing about those places I know and love most.
In my career I have specialised in leading overland tours throughout the Middle East, in particular Syria, Jordan, and Egypt (my second home), South America, and more recently Tibet.
About Alternativeegypt.com
Being of Egyptian ancestry on my father's side, I am often asked by friends how best to travel in Egypt and where to visit.
It came to my attention that there is a lack of online resources for the independent traveller and that many choose instead to join part of an organised tour or package holiday.
So this is my guide and travel planner for the independent traveller. It's based on years of experience organising adventure tours in the region, and of course putting together my own personal itineraries when visiting my granny and other loved ones.
The left hand menu lists literally hundreds of pages on different aspects of travel in Egypt. It's here where the vast majority of your Egypt travel planning can be conducted.
The right hand menu gives you the tools to make your plans a reality. Booking flights, hotel reservations, travel insurance and more, are all under your control and just a few clicks away.
Tariq Elkashef
Any comments? Was this page useful? Please use the newly installed Facebook comment box below: