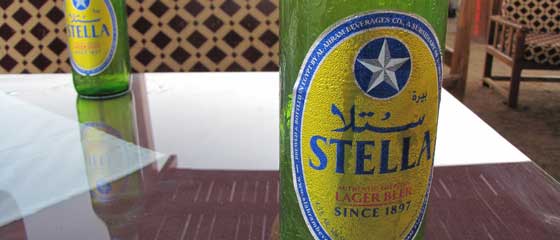 Bars in Alexandria
Most drinking in Alexandria takes place in relatively generic hotel bars and restaurants.
That said there are a few more atmospheric watering holes around the city that maybe a little harder to find but worth the effort (read more about drinking in Egypt).
Some bars in Alexandria are mentioned below:
Spitfire Bar – These walls have seen many drunks over many a drunken night. A small and dirty pub once frequented by US soldiers during World Word 2. Today it's more popular with backpackers and wealthy, young Alexandrians. The walls are adorned with graffiti and the yellowing business cards of previous drunkards.
Located at the junction of Sharia Al Bursa and Sharia Sa'ad Zaghoul about 250m west of Midan Sa'ad Zaghoul.
Cap D'or – A five minute walk south from the Spitfire bar along Adib Beb Ishkak is the Cap D'or pub (also known as Sheikh Ali). It's popular after a certain hour with the city's gay community. Day or night it serves cold beer and pretty good sardines, whitebait and other snacks.
Portuguese Club – A beer garden, restaurant and pub popular with the expatriate community and located in the heart of the embassy district off Shari Kafr Abdou. There is a cover charge most night of 20LE which increases for special events.
It's hard to find this place if you don't know where you are going. Ask to be dropped off at the junction of Kafr Abdou and Abou Quer. Then walk away from Abdou Quer along Kafr Abdou. Take the immediate right turn off Kafr Abdou – literally a few steps from the drop off point – and the club is on your left after about twenty yards.
It's dark and quiet outside and the only signage is a discreet plaque stating 'Centro de Portugal'.
Elite – Once an upmarket bar and restaurant, any glamour that Elite ever had has faded along with the elite-ness of its patrons. Reminiscent of an American diner with the curtains drawn, Elite serves worse than average food but the Stella and Sakkara remain cold and good!
Located on one of the city's busiest shopping streets (Sharia Safiya Zaghoul), Elite makes a convenient escape for those who - like me - can only shop for a limited period without breaks or beer!
Monty's Bar, Cecile Hotel – The Sofitel Cecile Hotel takes centre stage at the downtown section of the city's cornice at Midan Sa'ad Zaghoul. Built in 1925, the Cecile has long been one of the city's grandest hotels and once hosted guests such as Winston Churchill.
Monty's Bar on the 1st floor is however unfortunately dull and doesn't remotely warrant the prices charged for drinks there.
El Faoud Bar, El Salamlek – reminiscent of Aleppo's Baron Hotel, the El Faoud bar at El Salemlek Hotel hints of grander days gone by. Still relatively snazzy, there is a live pianist and singer most nights and the grounds of the hotel (formally the King's Palace) in which it lives make for a pleasant outing. Read more about Montaza Palace
Any comments? Was this page useful? Please use the newly installed Facebook comment box below: