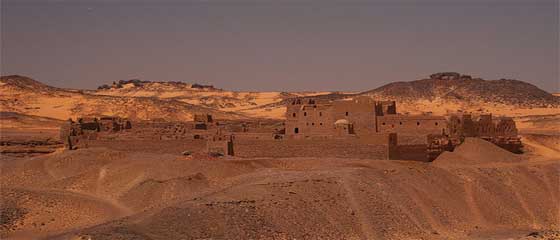 St Simeon's Monastery
This page contains information on the History of St Simeon's, What to see, and How to get there
History
St Simeon was arguably Egypt's most famous practitioner of asceticism, the Christian off shoot of monasticism characterised by total abstinence of various sorts of worldly pleasure in pursuit of a more spiritual existence.
More specifically, St Simeon was stylite and he spent some than 40 years standing atop of a variety of pillars. Over the years he balanced on top of higher and higher pillars having food brought to him only twice a week.
He believed that he received divine instructions from his lofty purchase, which he then passed on to the locals who came to him for advice.
As word of St Simeon spread, the stylite demonstrated increasingly impressive acts including, standing for a whole year on just one leg, or tying his legs together with ropes until his flesh rotted.
The monastery was constructed around one of St Simeon's pillars in the 7th century. It was rebuilt once again in the 10th century having been destroyed by an earthquake.
Due to a shortage of water in the monastery and raids by marauding Bedouin tribes, St Simeon's monastery was finally abandoned in 1173
What to see
Like most of Egypt's early monasteries, St Simeon's Monastery was built like a fortress to protect its inhabitants from raids.
Once inside, a guide will show you around, typically including the open air basilica, the central keep (where hundreds of monks once slept), and the chamber where St Simeon used to read the bible throughout the night, his beard tied to the ceiling to prevent him from nodding off.
How to get to St Simeon's Monastery
St Simeon's Monastery is located on the West Bank of the Nile in Aswan, clearly visible from any hotel window on the east bank facing the river. Visitors to the monastery have the following options:
1) Cross the river by ferry and trundle up the soft sand to the monastery.
2) Cross the river by ferry and hire a camel at the dock to take you across. There are usually ample camel touts waiting.
3) If you are also visiting the Tombs of the Nobles you can walk easily from one to the other.
St Simeon's Monastery is open for visitors daily from 8am to 4pm and entrance costs 20 Egyptian pounds plus whatever baksheesh you choose to pay the custodian who will show you around.
Any comments? Was this page useful? Please use the newly installed Facebook comment box below: