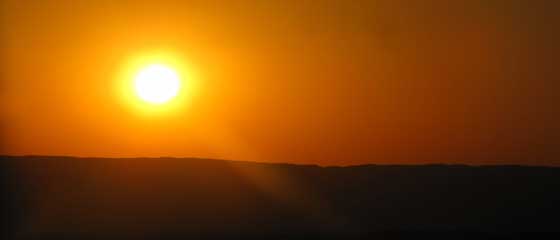 Temperature in Sinai
The Temperature in Sinai
It doesn't matter when you go, the sun is always shining. But that's not to say that the temperature in Sinai is always warm. The desert night in particular can be chilly all year round.
The winter months of December, January and February are the coolest with daytime temperatures between 8 and 20 degrees Celsius. See current weather in Egypt
The summer months between June and August are the hottest when temperatures hit 38 degree Celsius on the coast.
The most popular months for tourist are either side of the summer (April, May and September through to November) when the climate is still hot, but slightly more moderate and bearable.
Despite being fiercely hot, the summer months are less humid, and with less tourist around make for a more peaceful and often cheaper vacation.
The coastal towns of Sharm El Sheikh, Dahab, and Nuweiba have the warmest climates with temperatures dropping the further you move inland and higher above sea level you go.
Be prepared if you make the moonlit climb to the summit of Mount Sinai. Even in the hottest months you would be well advised to bring a woolly hat and gloves, and in the winter (when snow has been known to fall) thermal underwear is not a bad idea. In other words, bring every item of clothing you have!
Minimum And Maximum Temperature in Sinai
Jan
Feb
Mar
April
May
June
Rafah
7.8
20
9.6
22
8.2
22
12
24
14
27
18
29
El Arish
7.3
21
7.9
22
8.1
20
13
24
15
28
18
30
St Catherine
1.9
16
4.2
18
5.3
17
8.3
23
14
29
16
31
El Tor
8.8
21
9.6
22
13
24
17
25
20
31
23
33
Sharm El Sheikh
13
24
14
26
14
25
18
29
24
33
26
37
July
August
Sept
Oct
Nov
Dec
Rafah
21
32
21
32
19
30
18
18
11
24
9.3
20
El Arish
20
30
21
31
20
30
17
17
10
14
11
21
St Catherine
18
32
20
33
18
31
13
13
9.5
22
8.1
15
El Tor
24
35
25
35
24
31
19
19
15
26
13
23
Sharm El Sheikh
27
38
27
38
26
34
23
23
19
28
16
23
Any comments? Was this page useful? Please use the newly installed Facebook comment box below: