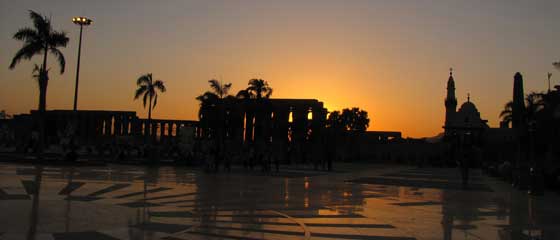 The Luxor Temple
Background and History
Luxor Temple is splendid and magnificent from all angles, and indeed at all hours. During the day its inner corridors are open to the public, and at night the entire structure is spot lit until 10pm.
Located between the West bank of the River Nile and the busy shopping streets of the modern city of Luxor, the ancient wonder is very much the focal point of the city.
The temple is essentially a new kingdom structure. Although the site on which it was built is much older, the Luxor Temple was founded by Amenophis III (1417 – 1379 BC) and completed by Ramses II (1304 – 1237 BC).
Other architectural contributors include Tutankhamen, Alexander the Great, and later the Romans who built fortress-like walls around its perimeter. It was these impressive walls that inspired the Arabs years later to call it 'Al Uqsur' meaning the 'The Palaces'.
The temple was once connected to Karnak - 3Km to the North - by an avenue flanked with sphinxes. Although some of them remain, most are buried beneath the edifices of the modern city.
Among the highlights of a visit to the Luxor Temple is the 25m obelisk that stands guard at its entrance. The Colossi of Ramses stand similarly proud (3 of the original 6 remain), but within the complex itself it's the reliefs depicting life and mythology that capture the visitors imagination.
The reliefs owe a debt gratitude to the desert sands that buried them for eons before being rediscovered. It was these sands that protected them from water and weather erosion and hence permit the strikingly clear images that we see today.
In 2006 an undercover drainage system was installed to protect from damage caused by water. At this time the paved area that you see in the photo above was also completed.
Getting to Luxor Temple
The temple is easily reached from anywhere in Luxor. If you're staying on the West Bank (where the majority of hotels and guest houses are) a short walk from your lodgings should see you at the entrance to temple on the corniche opposite the Nile within 5-10 minutes.
If you're coming from the East bank or from a boat docked on the Nile, the temple is clearly visible from the ferry port.
Luxor Temple Ticket Prices and Admission Times
Ticket prices are E40 for adults or E20 for students and the site is open between 6am-10pm (May to September); 6am – 9pm (October – April); and during Ramadan 6am-6.30pm and then 8pm – 11pm.
You do no need a guide to visit the site. However, should you require one numerous official and unofficial guides will attempt to tout their services around the vicinity of the temple.
For More Information:
Luxor Attractions - Find out about other Luxor attractions
Itineraries - Suggested luxor travel itineraries
Any comments? Was this page useful? Please use the newly installed Facebook comment box below: