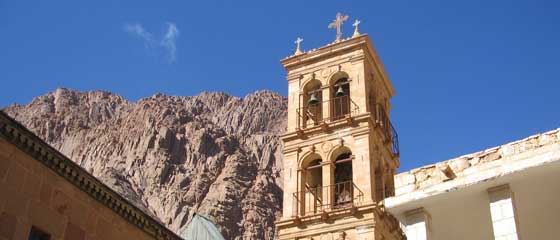 Where to Stay in St Catherine's Village?
Camping in St Catherine's Village
There are three lodgings with camping facilities in St Catherine's Village. These include Fox Desert Camp, and the Moonland Safaris Camp and Hotel. Both are located within 1km of the Village, and offer camping facilities from 10LE per person. Check below for reservation details.
Fox Desert Camp: http://www.desertfoxcamp.com/
Moonland Safari Camp and Hotel: Tel 0020 (0)69 347 0085 email: mnland2002@yahoo.com
Sheik Mousa - Bedouin Camp and Guest House
Owned and run by the Sheik Mousa Family, the Sheik Mousa guest house can accommodate small and large groups in a variety of facilities ranging from en suite rooms to camping spots.
Located in a picturesque spot in the centre of St Catherine's village, the Mousa family are also on hand and ready to assist with the organisation of hiking and desert safari trips in the region. For more info visit Sheik Mousa Website
Bedouin Gardens in Sinai
The Jabaleya Bedouin who inhabit the region are expert gardeners and have been tending and cultivating remote desert gardens for over a thousand years. Tours and overnight stays in the desert can be arrange locally. Please visit http://baraka-gardens.com/ for more information.
Hotels in St Catherine's Village
The Village has a number of hotels ranging from 2* to 4*. Although most travellers merely pass through, the area has enough in mountain vistas and serene desert ambience to warrant a longer stop. A few of the hotels are mentioned below.
St Catherine's Tourist Village (4 Stars): Tel 0020 (0)69 470 324
Catherine Plaza (3 Star): Tel 0020 (0)69 470 288
Daniela Village: Tel 0020 (0)69 470 379
El Salam Hotel (2 Star) Tel 0020 (0)69 471 379
For more details on accommodation and all things St Catherine's please visit: http://st-katherine.net/en/
Sleeping on Mount Sinai
A number of people choose to sleep on the summit of Mount Sinai, rising with the sunshine as it reveals the desert landscape and all its outstanding beauty. However this may not be the romantic experience you imagine.
The mountain is incredibly cold at night, all year round, and anybody planning to spend the night at its peak should be fully prepared. Even in the summer months temperatures drop as low as 10 degrees, and in the winter be prepared for freezing conditions where snow is not uncommon.
In addition be warned that the summit can be extremely busy, with literally thousands of noisy tourist stepping over you as they race to get the best viewpoint.
An alternative is to sleep a little lower down at Elija's Hollow and then climb the steps to the peak just before sunrise. In Dahab, Sharm El Sheikh, Nuwieba etc
Most of the other towns in Sinai popular with tourists will offer night trips to Mount Sinai.
After climbing the mountain, watching the sunrise and descending again, the bus will still be waiting to take you back. To find accommodation in one of the nearby towns you can search here>>
Any comments? Was this page useful? Please use the newly installed Facebook comment box below: