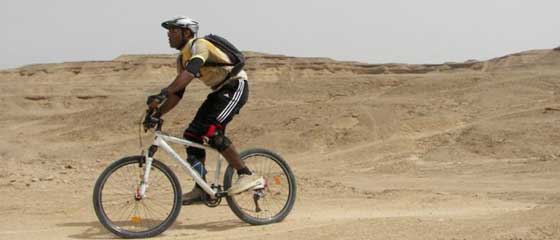 Mountain Biking in Egypt
Image courtesy of Mountain Biking Egypt
If you have ever witnessed the chaos and mayhem that is Cairo traffic, you would be forgiven for thinking that mountain biking in Egypt is a pastime reserved for the suicidal and clinically insane. Although it probably is fair to classify cycling on some streets of the city as an extreme sport, Greater Egypt actually has some highly conducive terrain for two-wheeled pursuits.
The Sinai peninsular in particular is riddled with off road, desert tracks slicing their way between the mountains. And the asphalt roads that connect the various resorts and villages are relatively traffic free. Aside from the mountains and wadis that comprise the landscape, cyclist can expect to enjoy riding through national parks, Oases, Bedouin villages and biblical hotspots. Most famous of all of these is St Catherines Monastery which sits at the foot of Mount Sinai.
If you do plan on mountain biking in Egypt you will almost certainly require a guide (as trails are unmarked), or at the every least, a four wheeled drive support vehicle in case of emergency. There are a number of organisations which can help you to research and plan such a trip.
The Cairo Cycler's Club
The Cairo Cycler's club is an "an informal group of cyclists who believe that bikes are the way to a better, brighter and more healthy future" (From the Cairo Cycle Club Blog, 2009). The group meet to discuss ways to promote the sport as a healthy, green alternative to driving, and to provide support to other individuals brave enough to pedal their way through Africa's largest city.
The club organises weekly cycle rides every Friday morning (the first day of the Egyptian weekend) when the streets are relatively traffic free. The rides start at 8 am at the Mikhfara Mosque opposite Cairo Jazz Club, and follow a number pre planned route in and around Cairo.
Check out the group's website and facebook page>>
Mountain Biking Egypt (MTB EGYPT)
MTB are a group of mountain bike enthusiasts and event organisers with rides for all levels taking place in the Sinai desert. Their website is a great source of information including routes, events, equipment etc as well as serving as a forum and meeting place for Egypt's mountain biking community. Find out more by visiting their website>>
Blackjack Bikes
Blackjack Bikes is a German owned desert biking specialist tour operator based in Sharm El Sheikh. As well as offering privately organised rides on various trails around Sinai, they also offer training and fitness programs and multi activity programs including bike and beach, bike and dive, or bike and ride. Visit website>>
Cycle Egypt
Cycle affficianados organising weekly cycling events each Friday out of Cairo and Alexandria. Dedicated to promoting cycling in Egypt as an alternative means of transport, some of their rides attract up to 500 participants. All are welcome and bikes can be rented through the organisation's website.
Visit the Cycle Egypt Facebook page to learn more and meet other members.
For More Information:
Any comments? Was this page useful? Please use the newly installed Facebook comment box below: