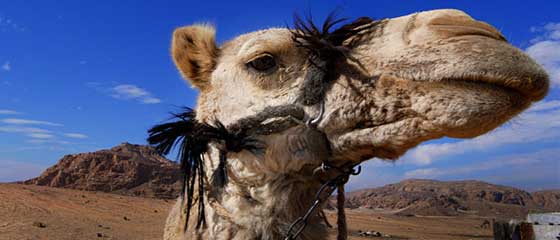 Sinai Travel Information
Sinai Travel Information
Sinai is the dusty, desert peninsula that extends from the Gulf of Suez in the west to the Gulf of Aqaba in the east. It is the land which links Africa to Asia, and joins Egypt to Israel and Gaza .
With the Mediterranean Sea to the north and the Red sea to the east and west, Sinai enjoys year round sunshine and includes some of the country's most scenic landscapes and most popular tourist destinations. These include Sharm el Sheikh, Dahab, Nuweiba, Taba and Saint Catherine.
Sinai has a rich and controversial history dating back to biblical times. It was the escape route for Moses and the Israelites who, while trying to evade the pharaohs, crossed over from mainlandEgypt by parting the waves of the Red Sea. According to the story they spent 40 years lost on the Sinai peninsula.
It was on Sinai that Moses spoke with God in the form of a 'burning bush' and was summoned to the summit of Mount Sinai to receive the commandments for all mankind.
More recently Sinai has been subject to military occupation by Israel . In 1967 Israel launched a massive pre emptive strike against Egypt , Jordan , Syria and Lebanon . With their superior military might (mostly donated from the USA ) Israel destroyed the entire Egyptian air force before a single plane left the ground. In what became known as the 'Six Day War', Israel seized control of Sinai all the way up to the Suez Canal, they took the West Bank from Jordan and the Golan heights fromSyria .
In 1982 Sinai was finally handed back to the Egyptians after President Sadat made peace withIsrael at Camp David. During the occupation the Israelis laid the foundations for some of the cities which have grown in to the Sinai peninsula's most popular resorts such as Sharm el Sheikh.
Today Sinai is a land of sun, sea and adventure. It offers some of the most and least developed beach resorts in the country. It is famed throughout the world as a scuba diving centre, and offers mountains and canyons for trekking, mountain biking and rock climbing, camping out under the stars or tearing about the desert in dune buggies.
For More Information:
Discover Sinai - In depth Sinai Travel Guide written by regional expert Zoltan Matrahazi
Sinai Maps - The most extensive collection of Sinai trekking maps and GPS on the web
Any comments? Was this page useful? Please use the newly installed Facebook comment box below: