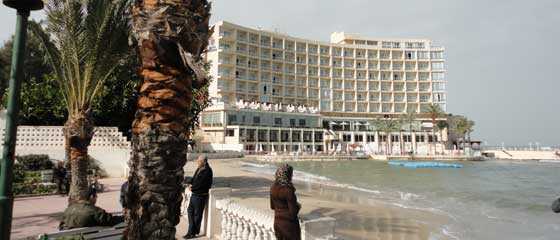 Alexandria Beaches
Guide to the best beaches in Alexandria
Each summer Egyptians flock on mass to Alexandria and its outlying resorts and beaches to escape the simmering, summer heat further south.
Traditionally overlooked by European travellers, Alexandria has a multitude of beaches to choose from both within the city and further a field along the coast west towards Mersa Matruh.
For those seeking a 'pure' beach holiday there are certainly better destinations on the Red Sea, where temperatures are milder and coastline less developed.
The occasionally ferocious Mediterranean breeze means that the weather is often too chilly and the sea too choppy for serious enjoyment outside of the summer months.
And any sunbathing to be done is usually a pastime for men and children as Egyptian women remain relatively covered even while at the beach.
In fact, western women will likely feel uncomfortable donning a bikini at most of Alexandria's beach resorts, and bar a couple of those located within the grounds of the Montaza Palace, conservative dress is recommended for women at all of the resorts discussed below:
City Centre
The recent expansion of the cornice road to accommodate greater traffic has meant a loss of territory for city centre beach goers. The beaches here are public and crowded in the summer and some of which offer scarcely more than a patch of sand protruding from the road.
City centre beaches include:
Stanley beach – An amphitheatre bay set back from the Stanley Bridge that diverts traffic overhead. This beach is located about 7km east of downtown and is easily accessible from there by micro bus or taxi (10-15LE). Read more about transport in Alexandria.
Miami Beach – The ironically titled coastline parallel to Sidi Bashr train station about 13km east of downtown. The sand here lies opposite a rocky island, a popular swimming destination with young Egyptian boys during the summer.
Montaza Palace Complex – By far the best beaches easily accessible from the city are the natural bays located within the grounds of King Farouk's former palace.
The private beaches (accessible for a fee) of Cleopatra, Semiramis, Venisia, Nefertiti and the Helnan Palestine Hotel are all located here. Read more about the Montaza Palace complex.
Of all the beaches in Alexandria, the Venisia and Helnan Palestine are likely to be the only places where ladies will feel comfortable stripping down to their swimming costumes.
Outlying Beaches
Mamounia – A private resort a few KM past the Montaza palace complex contain some clean and pleasant beaches. Access is granted for a cover charge at the door.
El Agami and Hannoville – Occasionally referred to as Egypt's Saint Tropez, the beaches of El Agami and Hannoville became popular during the 1940s for British officers and diplomats stationed in Alexandria. The districts now contain a selection of public and private beaches within easy walking distance of each other.
These beaches are located between Manounia and the headland at Abu Qir.
Abu Qir – A former fishing village that sits on the site of an historic, Napoleonic battlefield. It's believed to be the fabled submerged city of Herakleion following the discovery of thousands of artefacts beneath the surface of the waves.
An excellent spot for scuba diving, the beach here contains some of the city's calmest waters and remains great for fishing. Abu Qir is located on the headland about 7km east of Montaza.
Further West
The coastline west of Alexandria is lined with an abundance of sometimes colossal, holiday home and villa resorts. Each development comes with its own strip of private Alexandria beach.
Ghostly quiet during the winter, each resort is packed with Egyptians come May and June. Individual compounds are often owned by a professional union and offered exclusively to members of that profession meaning that one may find themselves surrounded by lawyers, doctors or engineers and their families.
Any comments? Was this page useful? Please use the newly installed Facebook comment box below: