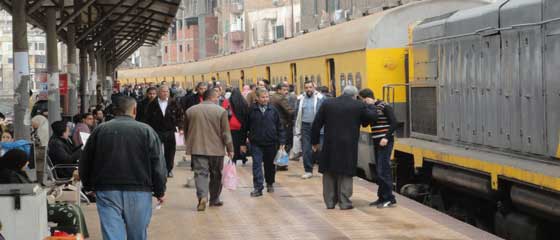 Alexandria Transport
Getting To and Around Alexandria by train, tram, foot, taxi, calesh and microbus
Getting to Alexandria
Alexandria is readily accessible from most of Egypt by train, bus or taxi.
Buses - Each day several buses run to/from Cairo in the South, Mersa Matruh, Siwa and the Libyan border to the West and Sinai to the East. Read more about buse schedules to/from Alexandria.
Trains - A more comfortable option where possible are the trains, which are surprisingly enjoyable, very cost effective and often faster. Trains currently run from Alexandria to Cairo and all the way to Luxor and Aswan in Upper Egypt by sleeper train. Read more about train schedules in Egypt.
Taxi – The road to Cairo is about 200 Km and can be driven by vehicle in between 3 and 4 hours depending on traffic. If you're comfortable negotiating, the fee for such a journey may cost anywhere between 300 – 600 LE (depends on you haggling skills).
Similarly the highway runs as far as the Libyan border and taxis and service taxis (shared taxis) are readily available for El Alamein, Mersa Matruh and Siwa.
Getting Around in Alexandria
A scenic city, Alexandria is built for walking, and certainly the central and downtown districts are best explored by foot. For longer journeys around the city, visitors have the following easy and cost effective options:
Taxi – It's seems like every other car is a black and yellow taxi in Alexandria and most want to slow down and offer their services with a beep of the horn when a tourist comes into view.
It's best to agree a price before getting in. State your destination and ask 'Bikam da?' – how much?
Here the driver will usually return the question to you in the hope that you'll offer an astronomical figure, 'how much do you want to pay?' The haggling starts from there.
A short journey starts at 10LE (about 1£ Sterling) where as a trip from one end of the city to the other should certainly cost no more than 40-50LE (about £4 - 5 sterling). Taxi metres in Alexandria still do not work and so any metres you see are purely decorative.
Micro Bus – 12 seater mini vans hurtle up and down the cornice day and night beeping their horns. The route is simple for most, straight on from one end of the strip to the other!
Simply hail one as it goes past and hop on when it slows down handing 1LE to the driver or whoever is seated up front to pass on.
Once you've travelled as far as you would like to go yell 'Men fadlack bass hena' meaning 'Please stop here' and jump off. Tourists rarely travel in this way so it's often of some curious amusement to the locals.
The experience couples as an adrenaline rush late at night when the streets are clear and the drivers put their foot down.
Calesh – Horse drawn carriages loiter around downtown and can provide a romantic means to trot along the sea front. Probably better for short journeys only, do ensure that the animal appears (reasonably) well looked after before offering to do business.
Trams – Set one block inland from the sea are the tram lines that run parallel to the coast, through much of the city.
Although destinations are in Arabic each tram is numbered and several are distinctive by colour (download Arabic language/number sheet).
There is always a carriage for the sole use of women so, if you find yourself in a car surrounded by only women, please ensure that you are one to avoid an awkward scene.
Fares start at 0.25 – 0.35LE and a few routes are provided below:
#1 Blue and Cream Trams
El Nasr (Victoria near Sidi Bashr train station located toward Montaza Palace toward the east end of town) - Mahattet Al Ramlh
Runs via San Stefano, Sidi Gaber Station,
#25 Red and Yellow Trams
Sidi Gabr Staion (located behind Alexandria Sporting club) – Ras El Tin (the end of the Conice near Fort Quaitbay)
#36 Red and Yellow Trams
San Stefan to Ras El Tin
Any comments? Was this page useful? Please use the newly installed Facebook comment box below: