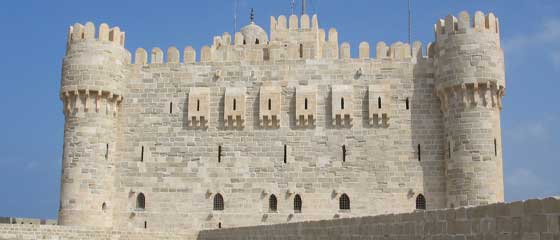 Fort Qaitbey and the Lighthouse of Alexandria
Fort Qaitbey is the fairy tale white fortress which stands guard over Alexandria's eastern harbour, lending landmark to the city's seemingly endless coastline.
Built in the 1840s by the Mamluk leader, Qaitbey, the structure's intended purpose was to defend against the Ottomans, with whom the ruler had a rocky relationship. Although today the fort is one of the city's defining features, and the excursion of choice for Egyptian school kids, Fort Quaitbey is far more famous for where it was built, and what it used to be,
The peninsular on which it stands was once known as Pharos Island, and played host to the lighthouse of the same name built in 283 BC. At 150m in height and with a mighty statue of Zeus at its summit, the lighthouse of Alexandria was the symbol of the city for almost a thousand years, and was considered a wonder of the ancient world.
What wasn't destroyed in 700AD when the lantern collapsed was finally laid to rest after an earthquake in 1303. Almost nothing of the original structure remains. Divers have pulled numerous relics from the sea bed including a colossus of Ptolemy, an obelisk and monoliths. The red granite pillars which now form the North West section of the fort are believed to be an original part of the ancient wonder.
But the fort is well worth a visit in its right, if for no other reason than to enjoy the glorious views across the harbour and out to see.
How to get to Fort Qaitbey?
Situated on the protruding headland, the fort is an easy enough land mark to find. If you are any where west of the fort, simply find your way to the coast and start walking east and it will soon appear.
From the library the walk will take you approximately 45 - 60 minutes. Taxis are abundant so if you prefer simply stick your arm out. The journey should cost no more than 5-10LE from anywhere in central Alexandria.
How much does it cost?
Entrance costs just 20 Egyptian pounds and the site is open daily between 9am and 5pm.
Any comments? Was this page useful? Please use the newly installed Facebook comment box below: