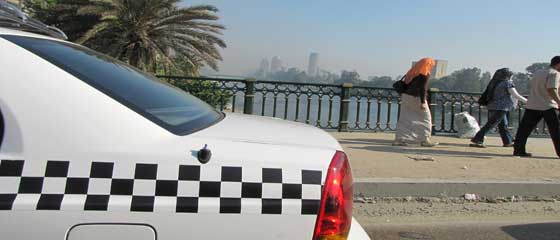 Egyptian Taxis
By far the best way to get around in Cairo and Alexandria is by taxi cab. These are easily distinguishable from other cars by their distinctive colours: black and white in Cairo or yellow and black in Alexandria.
You'll have no problem finding one as in both cities taxis comprise about 1 in every 4 cars. To hail, simply hold out your arm and wait for it to stop.
New Egyptian Taxis (as in the photo shown above) now have reasonably priced metres.
However, in some of the older model cars, these metres are little more than decoration. They were installed at time when petrol was significantly cheaper and have for years been obsolete.
Egyptian taxis are cheap (depending on how good you are at haggling in Egypt), and you may want to consider hiring one for a half a day or an entire day to assist with your sightseeing.
In such cases you should agree your price with the driver before you set off. It helps if you know a little basic Egyptian Taxi Arabic, but when it comes to money it's easy to communicate with hands and fingers.
Some Basic Egyptian Taxi Arabic: (Click Here to Download Free Arabic Guide)
Beckum da? - How Much?
Ashara - Ten
Hamsa - Five
La (Shukran) - No (Thank you)
Meshy - Ok
In both Cairo and Alexandria five Egyptian Pounds (1US$) will cover any short journey within the city. Pay ten (2US$) for a slightly longer one.
To avoid any dispute, on arrival at your destination step out of the car, pay through the window and walk off in the opposite direction of the traffic.
In Cairo, many Egypt taxis drivers will loiter around the big name hotels in the hope of securing a client for a full day of sightseeing.
These drivers usually speak conversational English and can add value to your excursion by giving you background information, and waiting for you at each monument or museum.
You will pay more for this service (how much depends on your bartering skills) but it's still relatively cheap and takes the hassle out of finding a driver for each short journey.
If you are on a tight budget though, walk around the corner from the hotel and hail one driving by.
Any comments? Was this page useful? Please use the newly installed Facebook comment box below: