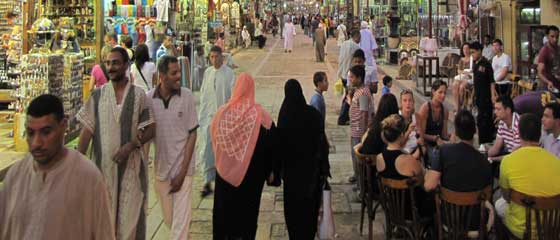 How to Dress in Egypt?
As is the case when travelling in any country in the world, your experience can only be enhanced if you respect the local customs and sensitivities.
This means respecting the social norms when it comes to how to dress in Egypt.
As a rule of thumb, it is advisable to keep your shoulders and knees covered at all times when travelling in Egypt . This is not applicable if you are lying on the beach, but is certainly recommended if you are in any of the towns, resorts or cities, even those most accustomed to seeing tourists. As a further caution, women should avoid wearing figure hugging clothes that show off their attributes.
So why would you want to do this? You probably don't stipulate what tourists should or should not wear in your own country?
Ultimately it comes down to respecting cultural differences.
These are only recommendations. They are not law in Egypt and nobody is going to tell you off. In fact, in highly touristy areas like Hurghada and Sharm El Sheikh you will see great numbers of foreign visitors perusing the local markets in little more than hot pants and a vest.
However, this boils down to how you would like to be regarded by the local the people. By respecting Egyptian customs, in particular with regards to how to dress in Egypt , you will enjoy greater interaction with the Egyptian people.
You are less likely to be harassed by men, more likely to receive fair prices in the shops (although haggling is always necessary), and stand a greater chance of locals approaching you for genuine interaction and not to simply sell you an alabaster sphinx or a stuffed camel.
Any comments? Was this page useful? Please use the newly installed Facebook comment box below: