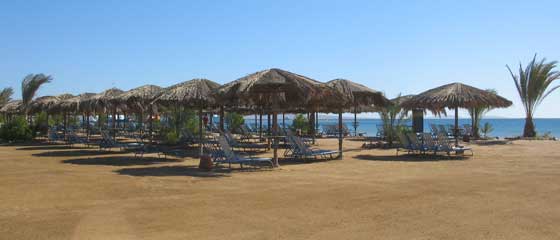 Hurghada Travel Guide
Hurghada is mainland Egypt 's premier red sea tourist resort.
Transformed from a fishing village, the last thirty years have seen the population grow to 35,000 people who now live and work along a 20km stretch of developed coastline.
Each year Hurghada welcomes more than two million visitors.
The region is well known for water sports (especially diving and snorkelling), a hot and dry desert climate, and lively nightlife.
The majority of visitors to Hurghada are package holiday makers from Europe, in particular Germany, the Czech Republic, and in recent years Russia.
If you're looking for more than simply sun, sea and surf then Hurghada has little to offer.
However, what it can provide is an airport with regular, cheap flights to many European destinations and good transport links to the rest of Egypt.
There are regular buses to Luxor, Cairo, and Alexandria and a ferry to Sharm El Sheikh.
The city is divided into the three regions. In the north is Al Dahar also known as 'downtown'. This is the old part of town. It's where you'll find the markets, and the majority of budget hotels in Hurghada.
To the south of downtown, and separated by the Gebel El Afish Mountain, is Sigala.
This is the fastest growing part of town, and the area in which the port and ferry are located.
The ferry to Sharm El Sheikh runs from here connecting mainland Egypt with the coast of Sinai.
Further south still is Hurghada's resort strip, a burgeoning centre for hotel resorts, shopping malls, and western fast food outlets.
Any comments? Was this page useful? Please use the newly installed Facebook comment box below: