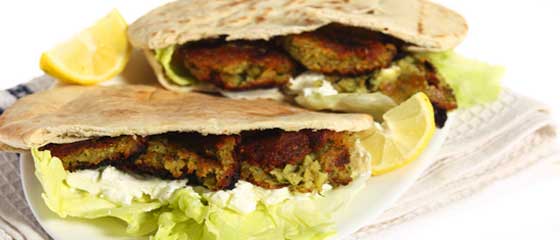 Photo © Paulcowan | Dreamstime.com
Egyptian Falafel Recipe
How to Make Egyptian Falafel
Falafel are delicious, deep fried balls of chickpea and herbs usually served with salad, or in a sandwich with hummus and pita bread. You will see falafel available in any Middle Eastern country, as well from Middle Eastern stores and restaurants throughout the world.
If you're in Egypt and you ask for falafel, more than likely what you will actually received are Tamiya, the superior Egyptian version of the classic Middle Eastern dish. The recipe for Tamiya – or the Egyptian falafel – is similar to that of traditional falafel, however instead of using chickpea, Egyptian falafel recipe uses mashed white broad beans instead.
If you're travelling in Egypt, you will most commonly see falafel available at breakfast in your hotel or from fast food outlets where it is sold along side its fava bean counterpart, foul.
Falafel is quick to prepare and suitable for vegetarians
Time to table: 30 minutes if using tinned beans. If using fresh beans allow them to soak overnight.
Ingredients for Egyptian Falafel Recipe:
1 x Cup or Tin of white broad beans
1 x small onion 3 x garlic cloves
1 x leek stalk
1 x tea spoon of baking soda
1 x tea spoon of flour
1 x tea spoon of cumin
1 x tea spoon of cayenne pepper
3 x table spoons of sesame seeds
5 x sprigs of fresh coriander
5 x sprigs of fresh dill
5 x sprigs of fresh parsley
cooking oil ½ -
1 tea spoon of salt to taste
Equipment:
1 electric blender or mixer 1 cooking pot
Directions:
1. If using fresh beans, soak overnight in cold water. If using tinned beans, empty into a sieve and rinse thoroughly.
2. Chop the onions, garlic and leek and place in a mixing bowl.
3. Pull the leaves from the sprigs of dill, coriander and parsley and add to mixing bowl.
4. Add the flour, baking soda, cayenne pepper, cumin and salt to the bowl. Please note that if using tinned beans you will need to add less salt than if using fresh beans.
Recommend you add ½ a tea spoon initially and then add more as required to taste after blending.
5. Add the beans to the mixing bowl and blend into a green paste. Then gentle kneed. If two moist add a little flour, if too dry add a couple of spoons of water.
6. Heath the oil until it is bubbling.
7. With a wet spoon shape the mix into flat discs 4cm x 2 cm. Sprinkle lightly with sesame seeds and add to the hot oil. The falafel is ready when it has turned brown on the outside. If you find your falafel is breaking apart upon contact with the oil it is too moist. Add some flower and roll it in flower before placing in the oil.
8. Serve with hot pita bread, salad and hummus.
Optional:
If you prefer the way it tastes in Jordan, Syria or Israel use chickpeas instead of broad beans. If you're feeling experimental, use a mix of the two for a tasty combination. Add fresh chilly to the mix for additional spice.
Falafel also makes great veggie burgers. Use the same recipe to make large burger shaped discs and cook in the oven or under the grill.
Note:
Although you will see falafel available in Egypt at breakfast, the deep fried nature of this dish can be fairly heavy on more sensitive western stomachs. I personally prefer to eat it as a sandwich for lunch along with foul from one of the country's many foul and falafel outlets.
Any comments? Was this page useful? Please use the newly installed Facebook comment box below: