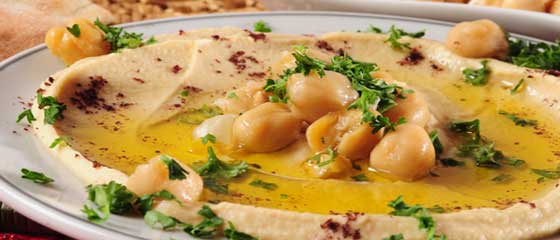 Egyptian Hummus Recipe
Create your own delicious Hummus B'il Tahina in minutes
Hummus is classic Middle Eastern dip, typically scooped up with pita bread or raw vegetables and found on dining tables across the Middle Easter, North Africa and Turkey. It can be eaten as a starter, as one of a number of mezes or used as a base for a number of other hummus based dishes.
It's healthy, simple to prepare and so deliciously addictive that it's now stocked by most supermarkets in Europe, Australia and the United States too.
There are several very good reasons to make your own Egyptian hummus.
Firstly it's economical. For just a few pounds, euros or dollars you can produce enough of the stuff to keep you well dipped for days.
Secondly it's healthier. By controlling what ingredients go in to the mixing pot, you balance the calories and limit the salt levels, ensuring the dish is as healthy as it should be.
Finally and most importantly, it tastes better! Hummus bought from western supermarket shelves is heavy on the garlic, low on the extra virgin olive oil and generally speaking an altogether drier and less delicious experience.
Time to Table: 10 minutes if using tinned chickpeas or 12hr10mins if using dried chickpeas to allow for soaking.
Ingredients (serves 2):
400g Chickpeas (1 tin)
2 Tablespoons of Extra Virgin Olive Oil
2 Tablespoons of Tahini (sesame paste)
3 Tablespoons of Lemon Juice
¼ Teaspoon of Salt
Pinch of Cumin
Pinch of Cayenne Pepper
1 Clover of Garlic
1 Sprig of Chopped Parsley
Directions
1) If using dried chickpeas first soak them for ten hours in roughly three times their volume of water. Drain them thoroughly and then cover in a pot with cold water and bring to the boil. Simmer for 1 hour. Then drain and wait to cool.
2) If using tinned chickpeas it's much faster. Empty the tin into a sieve and rinse thoroughly with cold water.
3) Peel and finely chop the garlic
4) Add the chickpeas (save a few for decoration), olive oil, tahini, lemon juice and salt into the blender and blend into a fluffy paste.
It also fine to use a stab mix and a bowl if a blender is unavailable. If the hummus looks to dry add a little more oil and lemon.
5) Put the blend past into a serving bowl, add a pinch of cumin and stir.
6) Create a whirlpool effect in your bowl of hummus with a spoon and then drizzle olive oil on top as shown in the picture above.
Voila! Serve with fresh, warm pita bread.
For a little extra kick I like to include 1 fresh chilli into the blended mix. You can also experiment with toppings and seasoning. A sprinkle of Egyptian dukkah also works rather well too.
Read about other typical Egyptian food and recipe
Any comments? Was this page useful? Please use the newly installed Facebook comment box below: