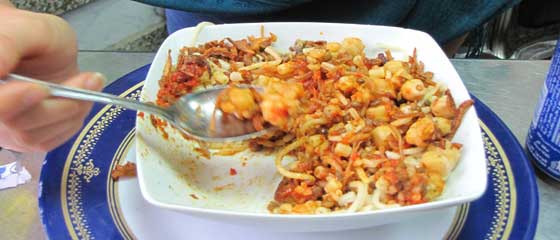 Typical Egyptian Food
If Egypt did not have the pyramids, the beaches, the sunshine or the scenery, it would still be worth visiting for the food alone.
Typical Egyptian food is cheap, varied and plentiful and has restaurants to accommodate the vegetarian (vegetarian food in Egypt), the vegan (Vegan food in Egypt) the pescatarian and the carnivore alike.
Egyptian food resembles that of other Middle Eastern countries but with a few twists and delicacies that you won't find elsewhere.
Mezzes
Most Egyptian meals start with a selection of Mezzes. Mezzes are a collection of salads and dips accompanied by pita bread. These include:
1) Tahini - Vegetarian
Tahini is a paste made from sesame seeds
Hummus is widely available in the western world these days and has it's origins in the Middle East. Unlike the stuff available in European supermarkets which often taste overwhelmingly of garlic, Egyptian hummus is more subtle and made by blending chickpeas, olive oil, Tahini, and a few drops of lemon juice.
Tabouleh is one of the Middle East's most famous salads. It's made by mixing fresh parsley with tomatoes, cucumber, garlic, bulghar wheat and lemon juice.
4) Baba Ganouche - Vegetarian (See full Baba Ganoush Recipe)
A dip/salad made from aubergines and tomatoes.
Similar to the Greek Tzatiki but without garlic, Zabadi is a yoghurt dip mixed with mint and cucumber.
Other Snacks
Egyptian Falafel is unique. Unlike the Falafel recipes made in other parts of the Middle East which use chickpeas, Egyptians make their falafel by deep frying balls of mashed broad beans. These are then served on their own, or in a pita bread sandwich with salad and hummus.
Pronounced 'Fool', this dish is made from cooking fava beans with cumin, lemon and olive oil until they become a kind of brown mush. They taste much better than they look and are often eaten as a kind of dip at breakfast time, or in a pita bread sandwich with salad.
Both Foul and Falafel are widely available from any one of the many 'Foul and Falafel' snack bars in most Egyptian cities.
3) Fatayer - Vegetarian (See fatayer recipe)
These pastry parcels are ubiquitous across the Middle East. Although they can be found containing a variety of fillings including meat, my favourite - and the recipe here - are filled with spinach and pine nuts
Main Courses
1) Mixed Grill
Egyptians love to eat meat, and although most meals are accompanied by an assortment of salad and vegetable, few Egyptians are actually vegetarians. Barbequed skewers of lamb, beef and chicken are usually available on any Egyptian menu.
2) Seafood
With long coastlines on both the Mediterranean and the Red Sea, it's no surprise that Egypt has an abundance of outstanding fish and seafood dishes. Especially when dining in one of the coastal resorts, seafood lovers will not be disappointed by the large and very affordable selection.
Kosheri is largely unknown and underrated Egyptian speciality.
A vegetarian's delight, this dish is mix of pasta, lentils, chick peas, and bulghar wheat topped with a spicy tomato source. Kosheri is available from numerous, specialist Kosheri restaurants whose menus only have three options, small, medium and large. A large bowl of Kosheri and a soft drink is unlikely to cost more than 1 Euro.
Any comments? Was this page useful? Please use the newly installed Facebook comment box below: