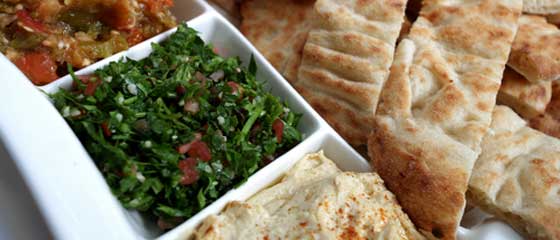 Image © Paulcowan | Dreamstime.com

Egyptian Tabouleh Recipe
Tabouleh is a salad comprising largely of parsley and bulgur wheat, and is ubiquitous across the Middle East. It is typically served as one of a number of tapas-style hot and cold starters known as 'mezzes', and which may also include 'hummus', 'zabaddi', 'falafel', pita bread and many more.
Tabouleh is healthy, quick to prepare and works well as a starter or as an accompaniment to any main course. With a zesty lemon tang it goes extremely well with fish.
Time to table: 10 minutes (3hrs including bulgur wheat soaking time)
Ingredients:
1 x cup fine bulgur wheat
2 x spring onions
4 x tomatoes
3 x cucumbers
½ x cup parsley leaves
½ x cup mint leaves
Oliver oil
Lemon Salt
Directions
1) Rinse the bulgur wheat several times before soaking in cold water for 3 hours.
2) Dice the vegetables and add to the main salad bowl
3) Remove mint and parsley leaves from their stalks and add to the mixture.
4) Add bulgur wheat and toss with lemon, salt and olive oil
The dish is now ready to serve. For presentation add lettuce leaves around the bowl. Traditionally no cutlery is required and diners instead use the lettuce to shovel up the Tabouleh.
Tips:
For addition 'zing', finely shop several garlic cloves and stir into the mixture.
The ancient Inca grain quinoa also makes a delicious and extremely healthy alternative to bulgur wheat (not that the bulgur itself is in anyway unhealthy). Submerge the quinoa in cold water, bring to the boil and then allow it to simmer for 25 minutes until the grains have begun to separate. Drain and cool thoroughly before adding to the salad in place of the bulgur.
Any comments? Was this page useful? Please use the newly installed Facebook comment box below: