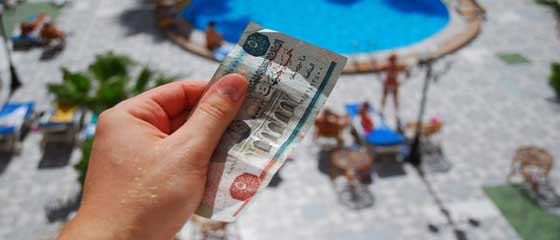 Money in Egypt
Egyptian Currency
The unit of Egyptian currency is the Egyptian pound. Each pound is made up of 100 piastres. You can see the current Egyptian exchange rates here
Egyptians use the following denominations:
Notes:
100
50
20
10
5
1
Coins:
1
0.20
0.10
0.5
The 1 pound coin is the most recent addition and still remains shiny. The rest of Egyptian currency is mostly dusty and worn.
Small notes like 1s and 5s are tremendously useful for tipping in Egypt. It is worth holding on to these notes when they come your way, as the small change always seems to be absent from the cash registers of cafes, restaurants and Egyptian Taxis.
In fact, many will simply not be able to accept large bills.
Which money should I take?
It's best to take a mix of local currency, a major currency (€, $ or £), and you own cash card. Every major city and resort has ATM machines where you can withdraw money. Check with your bank before departure how much they charge for withdrawals abroad.
Cash can be exchanged at banks, exchange agents and many hotels. Many Egyptian merchants and travel agents will also accept major foreign currencies. However, the likelihood is that prices will be rounded up, so local currency is extremely beneficial.
Traveller's cheque are less use these days. They cannot be exchanged everywhere, and in many cases agents will charge a hefty commission on their use.
Fraud
To prevent fraud many banks block the use of credit card and cash cards when used abroad. Before you travel notify your bank of your impending trip so they can update the system.
Any comments? Was this page useful? Please use the newly installed Facebook comment box below: