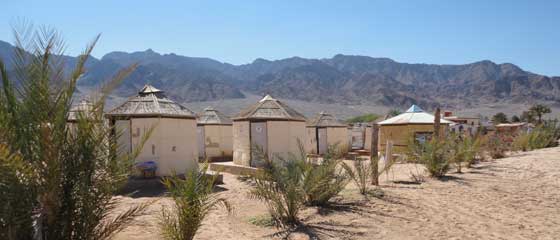 Accommodation in Nuweiba
Hotels, huts, apartments and camps in Taraben Beach
Although Nuweiba city has a few hotels these are predominantly used by Egyptians as a stopover before catching a ferry to Jordan or Saudi Arabia.
If you're coming to Nuweiba for recreational reason (or even as a stop before getting the ferry), Taraben beach (located just a couple of Km north of town) is by far the more scenic and pleasant place to base yourself.
Orientation
Taraben beach is spread along a 2 km section of coastline in the Gulf of Aqaba.
Hotels, huts and camps are spread along this strip.
Southern end – Taraben Sand Dune
The southern end of Taraben beach is dominated by palm trees and a large sand dune. This part of the coast has a lovely, sandy beach where travellers can walk bare foot into the sea without first having to negotiate a rocky shoreline.
It's also home to a couple of basic beach hut camps.
Soft Beach Camp
Soft Beach Camp consists of about 45 large and small beach huts with shared facilities and a handful of concrete en suit rooms.
The camp has a shady restaurant, volley ball court on the sand and a number of wooden marquis on the beach to shade bathers.
If you're short of reading material there are a number of bookshelves filled with worn novels donated or swapped by travellers passing through.
Blue Bus Camp
Located on the other side of the dune, Blue Beach Camp also enjoys access to some of the sandiest beach in town.
Smaller and more secluded than Soft Beach Camp, Blue beach has just ten basic, bamboo huts.
The beach area is peaceful and ambient with a selection of shaded canopies.
The large san dune immediately to the south and the sound of waves rolling up the beach seem to block out any noise from the surrounding camps.
The Main Strip of Taraben Beach
The main strip of Taraben Beach runs from the sand dunes north to the end of the strip.
All the hotels here have two sections, the main hotel building located on the western side of the thoroughfare and a shaded Bedouin style lounging/bathing area opposite on the beach.
Accessing the beach from anywhere on the main strip requires first walking over the rocks and stones that line the shore.
Gamal Camp
A mixture of comfortable concrete lodging and basic bamboo huts. Gamal camp also has a shady restaurant area out front to escape the sun.
The relaxing bird noises one can here around the resort actually emanate from the dubious, overpopulated budgie aviary at the centre of the grounds.
Saraya Beach
A mixture of wooden huts and air conditioned concrete rooms. Saraya has a shady restaurant area with pool table out front and fully detached beach enclosure with cushions and hammocks.
Mermaid Hotel
Located at the Northern end of the strip, Mermaid Hotel offers a mixture of basic huts, dorm rooms and a modern concrete block with air conditioning.
Mermaid hotel is also one of the few lodgings to offer a proper bar top with stools and green garden area where visitors can lounge.
Northern End of Taraben
Beyond the Mermaid hotel the strip falls somewhat into disrepair with large unkempt areas, semi developed properties and the remains of once popular camps and resorts.
That is until the very end of the beach where two fairly pleasant 'resort' hotels are located.
Prince Home
A resort style hotel with a series of concrete bungalows complete with air conditioning and en suite bathrooms.
Nakhil Dreams
Probably the most upmarket resorts here in terms of room quality, offering a number of luxury wooden bungalows and chalets.
Nakhil Dreams has also semi privatised its sandy beach area which is fenced off and contains a volleyball area, picnic tables and palm trees.
Located next to Sinai divers excursion and water sports are easily arranged without having to stray too far from the sun lounger.
El Salama Village
Located 400m to the north of Nakhil Dreams across a plain of strewn litter is the largest resort in Taraben, El Salama Village.
Made up of adjacent rows of white washed bungalows, like much of Taraben, el Salama has certainly seen betters days.
Although it has no neighbours in either direction for almost half a kilometre, the beach front is as dilapidated at the rest of the resort and the shore is in dire need of a clean up.
Empty bottles and plastic bags abound (last visited by the author in May 2011).
Apartments in Taraben
If you're considering a long term stay in the area you might find you get more for your money (and a greater sense of feeling at home) if you rent an apartment. A good place to start would be a visit to the area and ask around. Alternatively you might find the beach huts and guest houses will 'do you a deal' in you're sticking around a while.
Any comments? Was this page useful? Please use the newly installed Facebook comment box below: