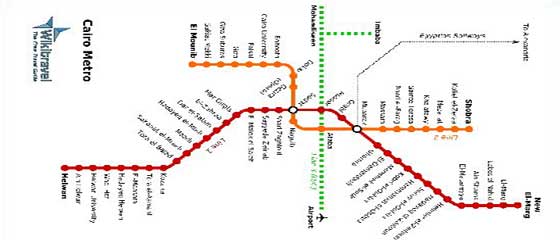 Cairo Metro Map
Getting Around the Cairo Metro Map .
Cairo is the hub of rail activity around Egypt with Cairo trains to all the major cities north and south along the Nile , and even its very own metro system to boot.
Read more about National Rail Information and Schedules
If you're looking for an alternative to taxis for getting around the city, the Cairo metro is pleasant, efficient and laughably cheap (Read more money saving tips). It's also the only Metro system in Africa .
Currently there are two lines in operation.
Line 1 links Helwan to New El-Marg via some 33 stations in between. Formerly two separate lines, the unification was complete in 1989 when the two lines were merged with a new underground line built directly beneath the city's financial and business districts.
The shorter Line 2 (just 21 stops) may be of more interest to the traveller as it includes Giza (home of the Great Pyramid & and a station on the national rail network) on its route between Qalubeya and El Mounib intersecting line one at Sadat and Moubarek.
There is also a third line currently under construction that will run from Imbaba to the Airport. This will hopefully combat the unpredictability of the current journey that is subject to the whims of Cairo 's road traffic.
All journeys cost just 1 Egyptian Pound and the first coach on each train is reserved for women. Although men are barred from travelling in this coach women are free to choose whichever they please.
All seat numbers are written in Arabic as are most tickets. If you plan to travel on the Cairo Metro Map it's not a bad idea to learn some basic Arabic. Feel free to download this free Arabic handout to print and take with you.
Any comments? Was this page useful? Please use the newly installed Facebook comment box below: