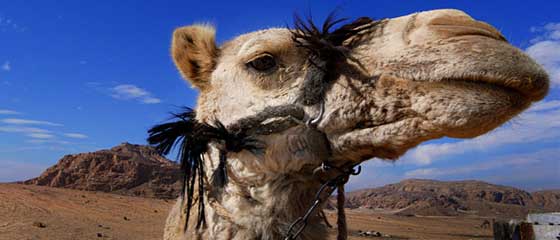 Volunteering in Egypt with Animals
Calling all animals lovers!
Throughout your travels in Egypt, you will likely see animals and local people alike working side by side, in agriculture, farming and of course, in tourism.
Camels famously run desert safaris, and canter around the pyramids while camera wielding visitors point and click. Horses drag carts and calesh's loaded with fruit, materials, or tourists enjoying a romantic ride. And donkeys haul travellers into the mountains around the Valley of the Kings to watch the sunrise.
Although the situation is improving, sadly life is hard and conditions are poor for many of Egypt's working animals. The problems stem from lack of education about animal welfare and lack of means, resources and interest to care for them properly.
If you want to give a little something back to the country after your travels, or spend an extended period here working with animals, why not assist at one of several organisations that exist to care for them.
You don't have to be a veterinarian to find a placement here (but it certainly helps), just an able and willing animal lover with enough time and love to donate.
Volunteering with animals in Egypt – How to find a placement?
ACE – Egypt
If you're an animal lover you may find a stint in Luxor with ACE Egypt to be a rewarding and fulfilling experience. Since 2000, ACE has been providing free veterinary services to some of Luxor's poorest animal owners.
Many people in Luxor rely on their animals for their living, to feed, cloth and care for their families. By ensuring their animals are healthy, ACE directly contributes to better living standards for people in the region.
ACE regularly requires volunteer veteninarians, veterinary students and general volunteers for various tasks and responsibilities throughout the year.
For more information visit the ACE Website
Animal Welfare of Luxor (AWOL)
Located on the West bank of Luxor's section of the river Nile, AWOL is a UK registered charity that aims to improve life for Egypt's animals by educating children in proper animal health care and treatment.
In 2011 AWOL will be looking for supporters and volunteers to help run their newly built Animal Medical Centre.
Find out more at the AWOL wesbite
S.P.A.R.E – The Society for the Protection of Animal Rights in Egypt
President and founder Amina Abaza set up SPARE to cope with the '…the wounded animals, poisoned dogs and cats and those that have been shot by the authorities as part of a seasonal eradication programme.'
The doors are open 24hrs a day for owner/finders of wounded or injured animals.
SPARE has also developed as an animal advocacy organization, and now its members work on issues related to animal welfare in all of Egypt, including:
* fighting to improve conditions at the Cairo zoo
* working to stop the growing "private zoos" that are the latest fashion in Egypt
* campaigning to get the government to stop its own cruel idea of animal control, which is poisoning and shooting
* lobbying for the passage of the new Animal Protection Law, which SPARE played a role in drafting
* uncovering the conditions in the Egyptian slaughterhouses and pressuring the government to improve the standards there
* educating the public on animal kindness and specifically on the need to spay and neuter companion animals
The website is currently not functioning but if you would like to learn more about how you can visit or volunteer, please visit or contact them through the details below:
16 Taha Hussein Gazirah, Cairo Egypt +20 (0) 2 33813855
Email: aminaspare@gmail.com Facebook group set up by previous visitor & volunteer
Brooke Animal Hospital "…carries out and supports a wide range of activities to protect, maintain and improve the welfare of working horses, donkeys and mules." This is achieved by providing short term veterinary solutions where none exist, strengthening and supporting existing animal welfare infrastructure, engaging with communities and influencing advocacy.
Brooke currently has operations in more than ten countries in Africa and Asia, including Egypt. Unfortunately Brooke does not accept volunteers for placements in the field but you may be able to volunteer and get actively involved on your return to the UK.
To find out more visit the Brooke Website
Sharm Action For Animals
S.A.F.A were founded in 2011 and work hard to improve lives for the vast number of stray animals on the streets around Sharm El Sheikh. They are always looking for volunteers in a variety of forms; to visit, care for and play witht the animals; to organise fundraising activities; and to help re-train the animals.
Whether you have a day or a week to spare you can find out more through the Sharm Action For Animals website
Responsible Tourism – Work with Dolphins?
A more expensive but no doubt appealing option is the opportunity to work with dolphins and researchers off the Red Sea coast of Southern Egypt. Here researchers tirelessly collect and analyse data on these wonderful creatures. You can be part of it all (for a price):
Find out more about work with dolphins in Egypt
Any comments? Was this page useful? Please use the newly installed Facebook comment box below: