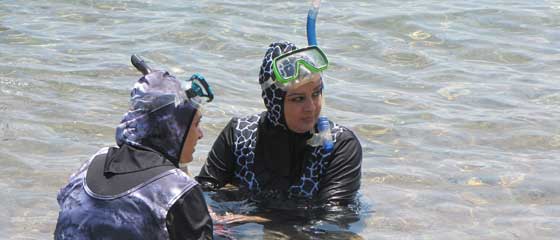 Diving Jobs in Egypt
With all the gorgeous dive sites and the popularity of scuba diving in Egypt's Red Sea, there are always work opportunities for diving instructors and divermasters. From Dahab down to Sharm, across the sea to Hurghada and along the Southern coast to Mersa Alam, Expats and travellers from the world over make their living beneath the waves. Of course you will need to be qualified to find diving jobs in Egypt.
PADI Divemaster or a PADI Instructor
You can find diving jobs in Egypt as either a PADI Divemaster or a PADI Instructor depending on your level of certification. A Divemaster is qualified to assist certified divers and to lead them on diving trips. A PADI Instructor is qualified to train qualified and non-qualified divers on PADI courses from the basic open water certificate right up to Divemaster. Either way you'll spend much of your time out at sea leading dives. When not actually diving, you'll likely work in the dive school shop flogging scuba equipment to dive students.
Scuba Qualifications
To work in scuba diving you must be certified to the required level, however, this is something that can be achieved in a matter of months with the right PADI courses. You can advance from a basic open water qualification to PADI Divemaster in just three months, although courses can be spread out at your convenience.
To become a PADI Instructor you must have held a PADI licence for a minimum of six months and have completed the required course. Courses and equipment can cost several thousands dollars depending on where you study (south-east Asia traditionally being one the cheapest and most popular places to train but Egypt's pretty competitive too), but you'll soon pay it back when you start your new career.
Where Can You Work?
As a PADI Divemaster or PADI Instructor you can choose from among some of the word's most exotic locations. Thailand, Egypt, Australia, and the Caribbean all have a hugely popular diving culture, and there are plenty of dive schools in the various resorts all continually recruiting dive staff. Your only real restriction when it comes to location is that you'll need to live and work near the coast, or at least, near a swimming pool.
Scuba Salaries
Pay for PADI Divemasters and PADI Instructors is universally low but the job has numerous perks that many clearly believe make the job worthwhile. For example, you'll get to dive all day long for free, a pursuit many spend thousands on every year.
PADI Divermasters/instructors traditionally don't pay for food and drinks in local bars and restaurants, and this, coupled with the often free accommodation means that you can save much of your salary. It's also possible to make additional commissions from selling dive equipment and future dive trips.
If you do decide you want to make more money, a more lucrative diving career is that of a commercial diver. However, you'll have to give up the warm currents, friendly clientele, and colourful coral in favor of altogether murkier waters.
Search for Jobs in Egypt
Any comments? Was this page useful? Please use the newly installed Facebook comment box below: