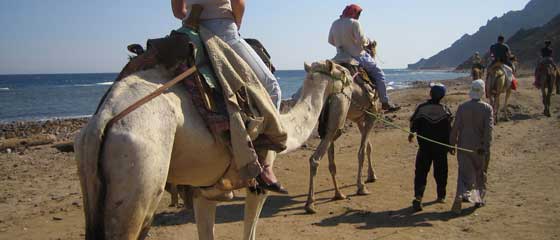 Tour Leading in Egypt
If you've ever done any independent travel before, you may have come across those usually brightly coloured overland trucks containing a dozen or so smelly travellers. This is an adventure tour.
But it's not all about trucks and camping. While still exploring the same 'off the beaten track' destinations, today adventure tours are just as likely to stay in comfortable accommodation and eat in decent restaurants. Adventure Travel Tour operators run tours the world over, including Egypt. And every tour needs a leader.
The Job Description
A cross between a guide and a babysitter, a tour leader is completely responsible for his clients for the duration of the trip. From stimulating their minds with local knowledge on the coach, to entertaining them over dinner. The job is a varied one. And with your boss back home at HQ, there's more autonomy than you could shake a hiking stick at.
Qualification
You don't need to speak a dozen languages to become an adventure tour leader, but what you do need are people skills, patience, and the ability to look composed and confident when things are falling to pieces around you. A little bit of travel experience helps too of course. And obviously you've got to want to work in Egypt.
The adventure travel industry is expanding constantly, and there are a number of adventure tour companies out there, each with their own specialisation, or niche. Some operate physically demanding tours, some only stay at campsites, some do cycling or hiking, some specialise in an area or region, and some do the whole lot.
Most operators have a recruitment section on their website. Read more about Adventure travel tour operators that run trips in Egypt here.
The Money
Tour leading won't make you rich, but there is an opportunity to save like never before. Although wages are low, tour leaders rarely pay for food, accommodation, travel or indeed drinks, meaning that you can put away pretty much every penny. At the end of a contract you're likely to come home with a tidy some in the bank.
Lifestyle
Make no mistake, tour leading is a lifestyle, and a profoundly fulfilling at one at that. But like any job there are ups and downs, and more often than not people retire to some sort of normality, usually after two or three years. It's incredibly hard work, the hours are infinite, and spending months away from home at a time will put strain on even the strongest of relationships. But for individuals of the right age, marital status and temperament, working as an adventure tour leader in Egypt is one of the most rewarding things you can do in your life.
Search for Jobs in Egypt
Any comments? Was this page useful? Please use the newly installed Facebook comment box below: