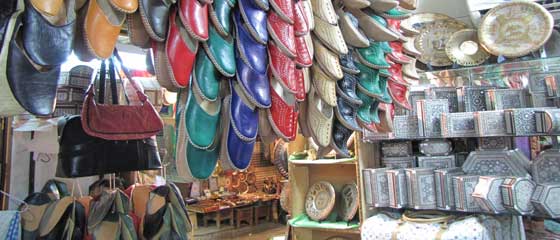 Shopping in Alexandria
There's plenty of opportunity for shopping in Alexandria during your stay. So if it's your last stop in Egypt, do make sure you bring a bag with a little extra space for souvenirs.
Generally shopping in Alexandria takes the following forms:
High Street Shopping
The downtown district of central Alexandria is comprised of a network of streets with a higher than average concentration of clothes and accessory stores.
Each one tends to be highly specialised with none being too dissimilar from others in their niche. Boots, belts, jeans, watches, sun glasses and lingerie are among the products with a multitude of outlets dedicated to their existence.
The busiest streets are located behind the Sofitel Cecile hotel along Al Askander Al Akbar running west and south to Ebadah Ibn Al Samet.
Prices on display are in Arabic so ensure you know your numbers or having an Arabic download at hand for quick translation. Prices are supposedly fixed but it doesn't hurt to ask.
Local Markets
Alexandria doesn't have the tourist-filled Khan al Khalili style market spectacular of Cairo, but for an altogether more authentic, local market experience you could try one of the following:
Souq Al Khreit – Meaning souq of thread, Souq Al Khreit specialising in textiles and related products.
Souq El Attarine - is a traditional souq located a short distance from the Roman amphitheatre. A maize of interconnected streets, antique, traditional dress, perfumes and jewellery are just a few of the products on offer.
Within Souq El Attarine is Zan ah Al Sitat.
Zan ah Al Sitat – Meaning 'Lady-jam' in Arabic, Zan ah al Sitat is a market street jam packed full of ladies busily shopping for lady's garments and accessories. Shopping-averse men beware.
The street also features in Alexandrian folklore as the scene of a number of 200 year old kidnappings of women by women. So the story goes, women were lured away from their shopping by other friendly felines, relieved of their jewellery and dropped in a well.
Upmarket Malls
Western style malls are becoming increasingly popular with Alexandria's Middle Classes. You can find both large and extra large malls in and around Alexandria, some with compounds so massive they eclipse the average European shopping centre.
Some of the most noteworthy include:
City Centre Mall - is one of the largest malls, located on the outskirts of the city on the Cairo-Alex desert road. The complex includes a multitude of restaurants and snack bars in addition to designer label outlets.
Bargain hunters may be disappointed however as items fetch a similar price as those found on shelves in Western Europe.
San Stefano Mall - The San Stefano Shopping mall is located on the San Stefano section of the waterfront next to the colossal Four Seasons hotel. Also massive in scale, the complex includes several cinemas and a plethora of luxury shopping outlets.
Green Plaza Mall – Located on the Green Plaza next to the Hilton Hotel. The Green Plaza Mall contains more than 370 shops, 6 bars and restaurants, a cinema and a fun castle!
Any comments? Was this page useful? Please use the newly installed Facebook comment box below: