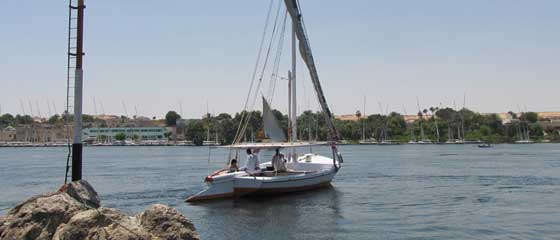 Aswan Travel Guide
Despite being Egypt's 3rd largest city, something about the scenery, the people, and the intense African sunshine make Aswan one of the most relaxing and beautiful places in all of Egypt (even in Summer).
Located in the far south of the country, Aswan is often described as the 'Gateway to Egypt', where the Nile pours out of Africa and into the Middle East, bringing with it a tangible cultural blend that's evident throughout the city.
As a result of this crossroads location, Aswan has always prospered as an important centre for trade. In ancient times this was the city of Swenit (literally meaning "trade") and supplied granite, sandstone and quartz to many of the Pharoahnic monuments and temples around Egypt. Modern dayAswan (from "As Saun" meaning "market") still prospers as a market town, with its colourful Sudanese souq well known for its exotic spices.
More than anything Aswan thrives as a destination for tourists. Its scenery is as impressive as anywhere along the River Nile and can be easily enjoyed from one of the many tranquil riverside cafes and restaurants.
Another means of enjoying Aswan is by Felucca, the quintessential Egyptian sail boat. The outline of these vessels across the water is as much a part of the Aswan travel skyline as the palm trees and the sand backs.
Most visitors take the time to sail out to one or several of the Nile's attractions including Elephantine Island, Issa, or Kitchener Island. Fryal Gardens on the East Bank make for a tranquil afternoon escape.
Since what remained of Nubia was submerged under Lake Nasser on the building of the Aswan Dam, Aswan has become the place to learn about the once mighty Nubian civilisation and experience what remains of it.
And of courseAswan has its own selection of ancient monuments too. These include the Ptolemic Temples of Edfu and Kom Ombo just a short train ride away, the Monastery of St Simeon, the once submerged Temple of Philae, and the prodigious Abu Symbol, one of the greatest single Egyptian monuments anywhere after the Pyramids.
Any comments? Was this page useful? Please use the newly installed Facebook comment box below: