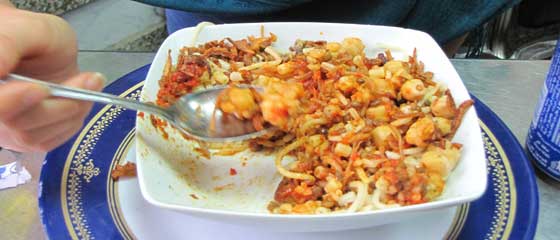 Egyptian Kosheri Recipe
A staple of the everyday Egyptian diet, Kosheri is a vegetarian blend of macaroni, rice and lentils topped with fried onions, lemon juice and spicy tomato sauce. Whether you buy it in a café or prepare it home, Kosheri is cheap, simple and fast.
Supposedly originating from an Indian dish called Kishri, Kosheri restaurants and mobile Kosheri vans can be found in every Egyptian city. Kosheri restaurant menus are remarkably minimal and usually contain just three options: small, medium or large. Typically rice pudding is served for desert.
Time to table: 35 mins
Ingredients for Kosheri Recipe
(Based on a meal for two)
• 1 x large onion
• 3 x table spoons of olive oil
• 1 x lemon
• 2 x tins of chopped tomatoes in tomato sauce
• 1 x cup of rice
• 2 x cups of macaroni
• 1 x cup of brown lentils
Directions
First get the rice, lentils and macaroni bubbling away on the stove.
1. Rinse the rice several times then place in a pot with two cups of cold water. Add a pinch of salt and then cook on a low heat for 25 minutes.
2. Rinse the lentils and remove and stones. Cook in pot of water for 25 minutes until the lentils become soft, but not mushy.
3. Cook the macaroni in a pot of boiling water for 20 minutes
4. Meanwhile chop up the onion (not to finely) and put to one side. Five minutes before the pasta is due to finish, add the onion to a pan of olive oil and fry until crispy.
5. When the rice, lentils and macaroni are ready, mix together in a bowl, cover and put to one side. Put the tomatoes in pot and cook on a high heat for five minutes until hot.
6. When the onions are looking crispy drain into a sieve, allowing the oil to poor through on to the pasta, lentil and rice mix. Give it a stir and serve. Add the tomato sauce and garnish with the fried onions. And a small squirt of lemon juice and you away.
Optional
Most Egyptian Kosheri restaurants will serve the dish with spicy tomato sauce. If you like a little fire in your meal, I definitely recommend adding a chilli to the tomato sauce. A pinch of cumin or a little garlic can also add to the flavour.
Enjoy!
Warning
If you're in Egypt and you fancy trying some Kosheri, be a little picky with where you eat it to ensure hygiene standards are good. Busy restaurants are a positive sign as food is cooked and served quickly. Be wary of quieter places as food may have been left to stand around or be reheated. One of the most famous Kosheri restaurants in Cairo is Abu Tariq's in the downtown part of the city.
Kosheri is one of the cheapest meals you can eat of your trip, and it can be fun to get away from the tourists and eat like a local. Kosheri should cost between 2 - 10LE depending on where you buy it and the size of the bowl. See egyptian exchange rate.
Any comments? Was this page useful? Please use the newly installed Facebook comment box below: