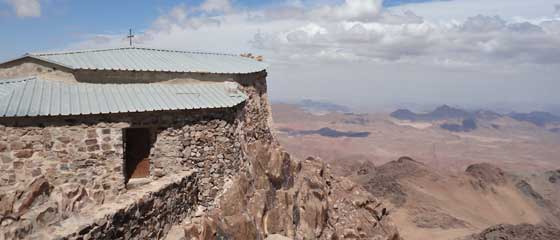 Climbing Mount Catherine
Practical Guide to Trekking on Egypt's Highest Mountain
Article includes introduction, history, why climb, routes, difficulty, equipment and organising you trip
Introduction
View GPS Profile or download Mount Catherine GPS file for free
Mount Catherine (also known as Jebel Katherin in Arabic) stands tall at 2645m above sea level. Located to the south east of St Catherine's Village in the high mountain region of the Sinai Peninsular, Mount Catherine is the Egypt's highest mountain.
Largely overlooked by the tourist multitude (who instead opt to watch the sunrise from the more well known Mount Sinai), climbing Mount Catherine offers trekkers a more challenging experience, more spectacular views and relative solitude on her lofty summit.
History of Mount Catherine
The mountain, and indeed the region around it borrow their name from the Christian Martyr St Catherine of Alexandria (Born circa 249AD).
Like many early Christians, St Catherine was tortured and eventually murdered for her beliefs.
According to the legend, angels carried her body far away into the Sinai Mountains. Her corpse was deposited here on the summit of Mount Catherine.
Some years later during the 9th or 10th century, it is believed monks found her and brought her down to the monastery which subsequently took her name.
Today her remains are kept within the monastery in a sarcophagus in St Catherine's Church (read more about visiting St Catherine's monastery)
Why consider climbing Mount Catherine?
Religious Sites - For anyone with more than a passing interest in early Christianity, Mount Catherine is one of a trio of world famous religious sites in the region.
These also include:
Mount Sinai - the mountain on which Moses was summoned by god to receive the Ten Commandments for all mankind. (Read about climbing Mount Sinai)
St Catherine's Monastery – The monastery built around the site of the 'burning bush' and which houses St Catherine's remains (Read about St Catherine's Monastery)
In addition to these, there are some 200 other religious sites including monasteries, churches and ruins of Byzantine monastic settlements in the region.
Spectacular Views - Climbing Mount Catherine is not a pastime only for the pious. The views along the way are nothing short of spectacular as one must first negotiate remote wadis and canyons before trekking along the steep switchback trail to reach the summit.
Once standing on the summit the trekker is treated to 360 degree views across the high mountain region of Sinai. Among the peaks that dominate the panorama is Mount Sinai, looking humble in the shadow of its larger counterpart.
Whereas summating Mount Sinai is an experience usually shared with many hundreds of others travellers, one can expect to enjoy the views from Mount Catherine in relative solitude as so few trekkers know to make the effort.
Bedouin Life - Should you opt for the Wadi Matar route on to Mount Catherine (see routes below), you'll be treated to glimpses of real, everyday life in the St Catherine's protectorate.
Bedouin farmers heard their goats along the way as they have done for centuries. The route is also dotted with secret gardens, an ancient Bedouin tradition often overlooked by travellers in the region.
Routes to Mount Catherine
Although there are others, below are two routes experienced by the author.
1) Ascent via Wadi Matar (5 – 6 hours approx), descent via Wadi El Arbain (2 – 3 hours approx)
This is a varied route that takes in some of the hidden wadis, gardens, streams and daily Bedouin life in the region otherwise overlooked by travellers.
Although this route is slightly longer the rewards are disproportionably greater.
Highly recommended and actually allows the trekker to get the best of both routes as the descent is via the Shagg Musa route.
Read full route description
2) Ascent (4.5 – 5.5 hours approx) and Descent via Shag Musa and Wadi El Abain (2 – 3 hours approx)
This is the steepest and most direct route to the summit. Both ascent and descent follow the same track. Arguably a tougher ascent than via Wadi Matar however less varied in terms of scenery.
Read full route description
Difficulty of Climbing Mount Catherine
Climbing Mount Catherine is a moderately challenging 1 day trek. You will need to be able to walk uphill for a period of 5 – 6 hours and then have the knees to descend continuously for a further 2 - 3 hours (no major issue for a regular walker).
Depending on the time of year, much of the walking will likely be in the sun at varying temperatures (see temperature in Sinai).
The descriptions on this site are based on a slow climb and there are plenty of breaks on route, plus fabulous scenery to take ones mind off any aching muscles.
Equipment
Trail shoes / walking boots
Sun protection - Hat / cap to protect from the sun, sun glasses and high factor sun block
Fleece/jumper - It will be windy and cool at the summit
Walking pole – optional, can take pressure of the knees during the descent
Warm clothes, hat gloves – during winter months or if sleeping at the summit
Water, Lunch & Snacks – Nowhere to buy water or snacks on route so walkers must carry all their food and beverages for the entire journey
Organising Your Trip
If you are planning on climbing Mount Catherine you will officially require a local guide.
This is both a legal requirement and will add value to your trek, particularly if attempting the more interesting Wadi Matar route which is less intuitive and obvious.
The Bedouin in this area rely on tourism for their economic survival. By hiring one or more to guides with you in the mountains you are contributing to the local community and partaking in 'responsible tourism'.
You can organise your climb through most hotels/camps in the area as well as a number of tour operators. For a full list of local providers see the resources box below.
If trekking on Mount Catherine you will be required to sign in with the local police to notify them of your climb. Your operator should take care of this process for you.
A guide for the day plus all paperwork and administration should cost between 300 – 400LE (see exchange rates).
Any comments? Was this page useful? Please use the newly installed Facebook comment box below: