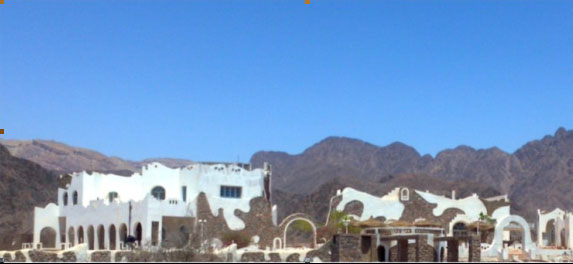 Taba Travel Guide
The most northern point on the South Sinai coast is Taba, from where you can travel overland into or from Israel, or by boat up to Aqaba or down the Gulf to Sharm and Nuweiba.
Some of Egypt's most laid back beach camps hide on the stretch of coast here between Taba and Nuweiba.
The town itself is fairly small although officially the Taba area extends for some twenty kilometres down the coast.
If arriving in Taba, the main compound features the five-star hotels such as the Hilton and Movenpick; there is also a small 'Taba Mall' where you will find a café, pharmacy and a few shops.
From here you can walk about 1km down the road, which is well maintained and tree-lined with grass verges, to the Taba Medical Centre on the right, bus station on the left, and the remnants of the Taba Museum, which although now closed, has a small camp in the grounds with another café. In the bus station are a number of small stalls making up a tiny 'souk' selling tourist souvenirs.
From here you will need a car to take you any further away from the town making this a good starting point, but certainly not an area to stay in if you are hoping for more culture or sightseeing.
You can however, take tours by boat to Petra, via Aqaba (Jordan) from the port, and all of the desert tours which are available across South Sinai are also accessible from here. See Taba Excursions for more information.
Taba is a starting point or transition point and has little to offer outside of the beach resorts, but if you find yourself staying there then there are a few interesting places about and some good food within taxi-distance.
Taba airport is located away from the town on the road towards Al-Arish and Cairo (not currently accessible for non-Egyptians beyond the airport).
Taxis can be found at the airport exit and prices range from 30le -50 le if you can share a microbus, to 150le for a private car to the Nuweiba area. If you are traveling further afield there is an East Delta bus (coloured orange) which passes at about 2pm (from Cairo) and will drop you anywhere along the road (e.g. 30le for Ras Shatan), or take you on to Dahab for approx. 45le.
Any comments? Was this page useful? Please use the newly installed Facebook comment box below: