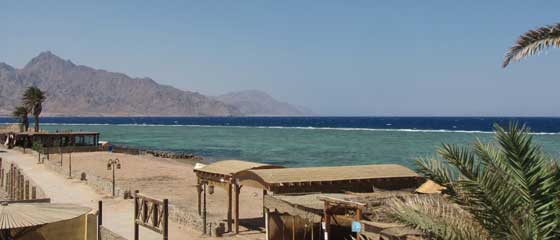 Travel From Egypt to Israel
How to cross the border from Taba to Eilat
Egypt and Israel share a border along the far North East ridge of Sinai. The border runs 266km from the Mediterranean coast and the Gaza Strip to the Gulf of Aqaba and the Red Sea. There are two crossing along this border from Egypt one at Rafah into Gaza, and the other at Taba. At time of writing the Rafah border is closed and travel to Gaza is highly unrecommended.
Instead it is safer and easier to travel from Egypt to Israel overland by crossing the border fromTaba into the Israeli seaside resort of Eilat.
Travel between the two countries is fairly straight forward for holders of EU, US, Canadian orAustralian passports. No visa is required for either country in advance. Entry is free of charge for these nationalities and valid for three months. You will be required to pay a departure tax of about 14$. For more information about Egyptian Visas read this.
When entering and departing Israel , one can expect extensive questioning as officials try to establish what level of threat you pose to their country. If you have Arabic ancestry, are a Muslim, or have spent considerable amount of time in the Arab world (with a passport full of stamps to prove it), you can expect much longer waiting periods, and more intense questioning.
Israeli customs officials do not waste time on pleasantries and any attempt to make light of the situation will only result in longer delays and more aggressive questioning. Be prepared to list anybody you know in Israel or Egypt, and justify any document or notepad containing Arabic writing.
If you intend to travel on to Syria or Lebanon in the near future, having an Israeli stamp in your passport will be problematic. These countries will not accept travellers who have visited Israel. Even if you have the Israeli official stamp a separate piece of paper (known as a 17L form), you will still be left with an exit stamp from Taba. With no explanation as to where you went in the interim, Syrian officials will assume it was Israel and turn you away.
By contrast there is no problem travelling in Egypt or Jordan with an Israeli stamp. If you travel from Egypt to Jordan, you may find that travelling overland from Egypt to Israel and then across the border to Jordan an attractive alternative to taking the ferry.
Buses to Taba from Cairo
There are daily direct buses from Cairo to Taba (8 – 10hours). Take the overnight bus to save on a night's accommodation and avoid the sauna like experience of a long daytime journey through the Sinai desert. Buses also run from Nuweiba (1hour), Dahab (2hours), Sharm El Sheikh (3 hours), and Saint Catherine's (4 hours). Service Taxis can be hired for the same trip. Prices vary depending on the number of people in your group, and on your ability to haggle with the driver. Learn how to haggle with this free guide!
See full Egypt Bus Schedule Guide
There is also a bus from Cairo to Tel Aviv and Jerusalem operated by Mazada Tours. The bus costs $40 one way and leaves Cairo daily at 0530 and at 1500 on Tuesdays, Thursdays, Saturdays and Sundays.
From Jerusalem the same bus returns to Egypt daily at 0730 and at 1900 on Tuesdays, Thursdays, Saturdays and Sundays. See the resource box below for more information.
Flights from Egypt to Israel
Travelling from Egypt to Israel by plane is possible courtesy of El Al which operates regular flights between Cairo International and Tel Aviv's BenGorion International Airport( airport code TLV or BGN). For more information see the resource box below or search for cheap flights.
Any comments? Was this page useful? Please use the newly installed Facebook comment box below: