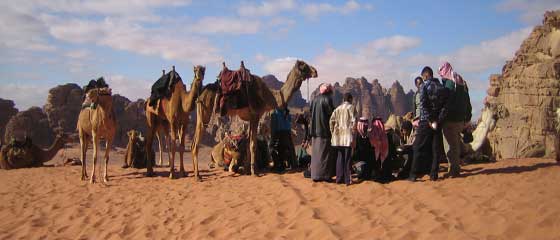 Travel from Egypt to Jordan
How to Cross the Border by Air, Sea, and Land
1) By Air from Egypt to Jordan
Royal Jordanian and Egypt Air operate flights between Cairo and Amman . Check the flight information page for more details about prices and availability.
2) By Sea from Egypt to Jordan
It is possible to travel from Egypt to Jordan by sea across the Gulf of Aqaba between Nuweiba(Egypt ) and Aqaba (Jordan). Read about the ferry Nuweiba to Aqaba here
3) Over Land from Egypt to Jordan
Jordan and Egypt do not share a land border. However it is possible to travel between Taba and Aqaba overland via Israel .
Eilat is the southernmost Israeli coastal resort and the country's only access to the red sea. Sandwiched between Egypt and Jordan , the strip is only 7 km in length and a taxi journey (12$ approx) from one border to the other will take less than twenty minutes.
Buses and taxis run to/from Taba from most of Sinai's coastal resorts including Dahab,Nuweiba and Sharm El Sheikh. Israeli taxis loiter at the border ready to take you into the city, or to the Arava crossing with Jordan . Were there no customs officials to deal with the journey between the two countries would be a very short one and simple one.
When entering and departing Israel, one can expect in depth questioning as officials try to establish what level of threat you pose to their country. If you have Arabic ancestry, are a Muslim, or have spent considerable amount of time in the Arab world (with a passport full of stamps to prove it), you can expect much longer waiting periods, and more intense questioning.
Israeli customs officials do not waste time on pleasantries and any attempt to make light of the situation will only result in longer delays and more in depth questioning.
With that in mind, it may still be faster than taking the ferry from Nuweiba which is subject to frequent delays.
If you intend to travel on to Syria or Lebanon in the near future, having an Israeli stamp in your passport will be problematic. These countries will not accept travellers who have visited Israel .
Even if you have the Israeli official stamp a separate piece of paper (known as a 17L form), you will still be left with an exit stamp from Taba (or Aqaba depending on in which direction you are travelling). With no explanation as to where you went afterwards, Syrian officials will assume it wasIsrael and turn you away.
There is no visa required to enter Israel for British, Canadian, US, Australian or European citizens. Departure tax is mandatory (14$).
Any comments? Was this page useful? Please use the newly installed Facebook comment box below: