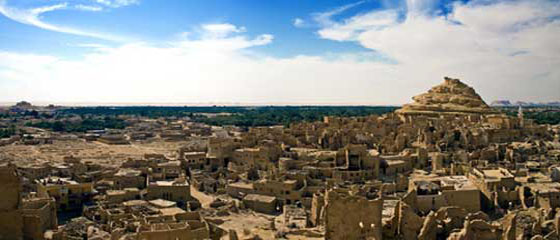 Egypt Eco-Lodges
What is an Eco Lodge?
Generally speaking, an eco lodge is a hotel, hostel or guest house that adheres to the principles of 'eco tourism'.
Defined by the International Eco Tourism Society as "Responsible travel to natural areas that conserves the environment and improves the well-being of local people", an eco lodge should do the same by striving to protect the natural and cultural environment in which it exists.
The make up of an eco lodge can differ greatly, and being 'green' doesn't mean being rustic or simplistic. Eco lodges can vary from tented camps and huts, to luxurious spa retreats.
If you're staying at an eco lodge you can typically expect it to have the following characteristics:
It should:
Have been built in an environmentally friendly way.
Have an environmental impact that is, if anything positive.
Be staffed by and benefit local people and the community
Build environmental and cultural awareness and respect
Be powered by alternative energy
Use environmentally friendly water and waste solutions
Serve meals containing fresh/organic produce grown in the ground or locally within the community
Generally serve to benefit the environment and community in which it exists.
Eco Lodges in Egypt
Egypt has been welcoming tourists for literally eons, but eco-tourism is relatively new here and pioneered by just a few. You may have to search harder to find it, but for those that do the rewards are great.
Egypt now had a growing number of eco tourism practitioners and eco-lodges.
Although the majority are located on the Sinai Peninsular, they can also be found around the Siwa Oasis region and along the Red Sea Coast of Marsa Alam.
Eco-Lodges in Egypt tend not be a cheap option and some are certainly better, and truer in their commitment to eco-tourism than others.
A few are mentioned below:
Basata Eco-Lodge, Sinai
Hailed by the Guardian newspaper as 'Egypt's first Eco-lodge', Basata is located on an otherwise undeveloped crescent of coast line between Nuweiba and Taba on the Red Sea coast of the Gulf of Aqaba.
Created by a Cairovean engineer and his German wife, visitors to Basata may either camp or stay in on the bamboo and reed-made huts.
Prices range form €14 per night for camping to €20 per night for a private hut. Chalets are also available.
Al Karm, Sinai
Al Karm Eco-lodge is located on the old pilgrim route to St Catherine's monastery, in the surroundings of Wadi Gharba. Bedouin owned and run, the lodge is both simple and remote.
The lodge has 8 rooms that can accommodate up to 40 guests at any one time. With no electricity, the lodge uses solar power to heat the shower water for guests.
A ponze age Nabatean (the builders of Petra) village lies close by and the hills and mountains in this part of Sinai are excellent for trekking and other outdoor adventures.
The lodge currently has no website, but you can make a reservation by contacting the manager on his mobile phone. Full details can be found at the Lodges Facebook page:
http://www.facebook.com/group.php?gid=2469840355
Bedouin Valley Eco-Lodge, Marsa Alam
Bedouin Valley Eco-Lodge is located 14 Km from down town Marsa Alam on Mainland Egypt's south East coast.
A growing destinations for divers, this stretch of coast line is still largely unexplored and infinitely more peaceful than the likes of Hurghada and Safaga further North.
Visitors can stay in either bungalows or chalets. The lodge does not have a functioning website but you can find out more or contact through the Facebook page below:
http://www.facebook.com/group.php?gid=4887819386
Um Tobdoba Eco-Lodge, Marsa Alam
Also located near Marsa Alam is the Um Tobdoba Eco-Lodge. Visitors are invited to stay in African huts with joint bathrooms or bungalows with private bathrooms.
The area is superb for aqua fun, snorkelling, diving or swimming with dolphins; all of which can be organised close by.
Prices vary from 35€ per night for an Africa Hut to 45€ for a bungalow.
http://www.ecolodge-redsea.com/
El Hammra Eco Lodge, Nile Delta
El Hammra Eco Lodge is located mid way between Cairo and Alexandria on the edge of Wadi El-Natrun.
'Natrun' means 'sodium' and hence the waters of the shallow lake are rich in natural salts and both pleasant and healthy to swim.
The area is rich in nature and ancient history, some of the world's oldest Christian Monasteries located just a short distance away.
For reservation and prices contact reservations through the website:
http://www.elhammraeco-lodge.com/gallery.htm
Taziry – Siwa
Taziry is an eco-lodge located by Siwa Oases in Egypt's Western Desert just a short distance from the Libyan border. Visitors stay in traditional yet comfortable mud pick style accommodation that blends in effortlessly with the surrounding environment.
http://www.taziry.com/main.asp?PageID=7&MenuID=3
Adrere Amella - Siwa
Also located in the Siwa region, Adrere Amella has 40 hand built rooms, each one filled with furniture and trinkets carefully crafted by local artisans. With no electricity the rooms are lit by beeswax candles and the stars in the night sky.
Dinner is served somewhere different each day and food is grown locally within the grounds.
http://adrereamellal.net/index2.html
Desert Rose, Bahiriya Oasis
Desert Rose Eco Lodge is located by the Bahariya Oasis, 350km from 6th of October City. It's a fifteen minutes drive away from the nearest town and just one hour away from the White Desert by car.
The lodge has no air conditioning but uses traditional mud pick techniques to ensure that visitors are kept cool all year long. The lodge has 9 twin and 2 double rooms each one of which can accommodate up to three people.
Food is traditional Middle Eastern cuisine and is included in the room price. So make yourself at home and eat as much as you like!
http://www.desertrose-ecolodge.com/
For More Information:
The International Eco Tourism Society nonprofit organization dedicated to promoting ecotourism and Eco lodges
Green Profit - Magazine dedicated to a sustainable Egypt and wider Middle East
Any comments? Was this page useful? Please use the newly installed Facebook comment box below: