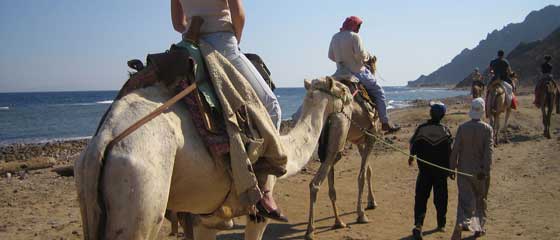 Excursions from Dahab
This article includes climbing mount Sinai, visiting the coloured canyon, the blue hole, Ras Mohammed National Park, Camel Safaris, Horse Riding, and watching the stars
Dahab is a great base for exploring Sinai, and for combining rest and relaxation with other more challenge endeavours.
Assuming that you don't simply want to lie on the beach all day, there's lots to see and do in the region.
The following excursions are a few of my favourites (by no means exhaustive), and can be easily organised locally in town from any one of the travel agencies and hotels that line the seashore.
Climbing Mount Sinai
You don't need to be religious to climb the biblical mountain on which Moses received the Ten Commandments for all of mankind. Making the moonlit trudge up the mountain to watch sunrise from the summit is spectacular in its own right.
In the morning before returning to Dahab, trekkers usually also visit St Catherine's monastery which sits at the foot of the mountain.
Packages from Dahab typically include minibus transfer to/from the mountain (3hrs approx) and a local guide.
Typical price from Dahab -150LE (see currency converter).
Read more about climbing Mount Sinai.
The Coloured Canyon
Eons of weathering have left this canyon decorated with an array of colours woven deep into the sandstone walls. The geographical formations are no less impressive.
Visitors usually hike through the canyon (located just 1-2 hrs from Dahab) as part of a 1 day jeep safari which includes a Bedouin lunch in the desert. It's an easy hike (outside of the summer heat) with plenty of optional opportunities for some light scrambling.
Typical price from Dahab -150-200LE (see currency converter) for a one day trip including lunch, several stops and a local guide.
Read more about Hiking in Egypt
The Blue Hole
One of Egypt's most famous diving and snorkelling spots is located just a short distance outside of Dahab (12Km). Although this is an advanced site for scuba divers, it remains suitable for snorkellers of all abilities.
In addition to the marine life that inhabits the coral walls of this underwater cavern, watching scuba divers appear and disappear into the murky depths is equally fascinating.
This excursion is easily organised independently by taxi, or alternatively as an all inclusive package with mask and fins. The blue hole can also be combined with a trip to other snorkelling spots or with a camel safari.
Typical price from Dahab -30-50LE (see currency converter) for a one day trip including equipment and transport.
Read more about snorkelling in Dahab
Ras Mohammed National Park
Located a 90 minute drive south of Dahab, Ras Mohammed is Egypt's most famous national park, and occupies the southern most tip of the Sinai peninsular.
The water along the shoreline contains more than 220 different types of coral which remain vibrant and healthy due to government protection. The park boasts numerous hiking trails and wildlife both above and below the water.
Some groups camp in the region to allow for greater exploration or take a boat all the way there from Dahab.
Typical price from Dahab -200-300LE (see currency converter) for a one day trip including transport by vehicle or 500-600LE for the boat trip.
Camel Safari
Too many people come to Egypt and only experience camel riding briefly and unpleasantly on a short jaunt around the pyramids.
Camel riding through the desert while enjoying endless vistas and near silence is an altogether different experience.
One day camel safaris from Dahab are easily arranged through any travel agent or hotel and include rides to, from and through a variety of canyons, beaches or Oases. For example, the White Canyon, the Double Canyon, or Ras Abu Gallum.
Two day camel safaris go even further a field and allow for a night's camping under the stars Bedouin style. Read more about riding camels in Egypt
Typical price from Dahab -250-300LE (see currency converter) for a one day safari or 500 to 600 LE for two.
Horse Riding
If camels don't float your boat, similar (albeit more expensive) trips can be arrange by horseback, typically for a few hours or a full day.
Horse riding in Dahab is easily arranged from any travel agent in town. Typical horse riding destinations include the Blue Lagoon, the Blue Hole, Wadi Qunai Oases and the Three Pools.
Typical price from Dahab 150-200LE (see currency converter) for a two to three hour ride or 350-400LE for a full day.
Desert by night
If you're used to living in a city, you'll be particularly blown away by Sinai's spectacular night time skies. Several romantic excursions from Dahab allow visitors to fully appreciate the zillions of stars that occupy the heavens.
Lovers can organise a candlelit dinner in the mountains or even space vision trips out to the desert including a guide and telescope to boot.
Typical price from Dahab -150-300LE (see currency converter) for dinner in the mountains. Price can vary depending on whether you want to drive out there or be even more romantic and take a horse or camel.
Night time star gazing excursions from Dahab cost between 200-300LE including transport, guide and buffet dinner.
Any comments? Was this page useful? Please use the newly installed Facebook comment box below: