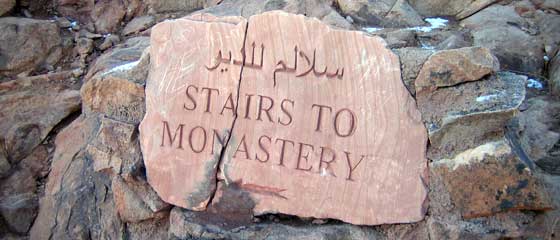 Saint Catherine's Travel Guide
Introduction to St Catherine's Village
St Catherine's Village (also known as 'Katreen' or 'Al Milgra') is the small, desert town located at 1575 metres above sea level in the high mountain region of Southern Sinai.
Primarily inhabited by the Jabeliya Bedouin tribe, the region is known most famously for the Sacred Mount Sinai which stands 1 KM to the east of the town.
According to the Old Testament it was Mount Sinai on which Moses was summoned to receive the Ten Commandments for all mankind.
At the foot of the mountain sits one of the most famous and revered orthodox monasteries anywhere in the world, the Monastery of St Catherine (read more about Egypt's monasteries).
Each evening hundreds of travellers and pilgrims make the moonlit trudge up to the mountain's summit in time to watch the sunrise from its lofty peak.
Read more about climbing Mount Sinai and the Monastery of St Catherine.
The surrounding area is both spectacular and remote. Great care has been taken to ensure that new buildings blend into the Martian landscape.
Visitors can stay at a number of small hotels (so far no major chain has taken up operation here) or more interestingly at a Bedouin camp or Eco lodge. Read about where to stay in St Catherine's Village.
Days are spend exploring the region and the evenings around the campfire, swapping stories with other travellers and getting to know the Bedouin.
St Catherine's village might well be the most peaceful and relaxing place in Egypt.
Why Stay in St Catherine's?
Although most visitors come primarily to climb the mountain or visit the monastery, for those that stick around longer the St Catherine's protectorate region has a great deal to offer.
It's a principle place to learn about the ancient culture and traditions of the Egyptian Bedouin.
For anyone with more than a passing interest in horticulture, the Bedouin here have been farming these deserts for centuries.
The wadis and canyons that surround the village are home to a number of beautifully preserved and well kept gardens.
Many of the gardens grow medicinal herbs and travellers can visit the medicinal plant project dedicated to preserving this tradition.
Eco Lodges are also present in this part of Sinai, and travellers looking for an experiences inline with the values of Eco tourism can do worse than to stay at one of the lodges here for a night or two.
In addition to St Catherine's Monastery, there are some 200 other religious sites including monasteries, churches and ruins of Byzantine monastic settlements.
Finally, the St Catherine's region is one of the best trekking destinations in the Greater Middle East.
In addition to being home to Egypt's most sacred mountain, it also hosts Egypt's tallest peak (Mount Katherine, 2642m), and some of Egypt's most challenging climbs.
There are a variety of treks possible from St Catherine's including both day treks and week long voyages through the Sinai desert.
Any comments? Was this page useful? Please use the newly installed Facebook comment box below: