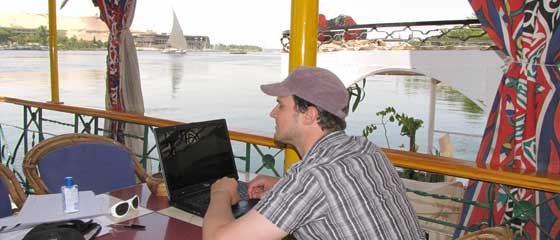 Travel Jobs in Egypt
So you're hooked? You've visited Egypt and fallen in love with the country? You want to stay! For a while at least… Want to work in Egypt?
If you're interested in finding travel jobs in Egypt here are a few ideas to get you going:
Adventure Tour Leading
If you have a bit of independent travel experience, get on with people, and don't mind spending extended periods on the road then adventure tour leading could be for you. In an industry which has ballooned in the last ten years, now more and more people are turning their backs on the beach holidays of old and opting to walk the Great Wall of China, climb Mount Sinai, or cross the Sahara on the back of a camel. Adventure tour operators plan and run tours the world over, and offer some of the best itineraries in Egypt.
Tour leaders spend very little money on the road, their accommodation, food, and day to day expenses usually all included. It's possible to make additional money through commissions and the generous tips of your clients (if you're any good at it), making this profession an excellent way to save.
Although the salaries are not huge, you'll soon find yourself rich with new experiences. Tour operators usually recruit individuals in their country of residence and then send them on assignments abroad. Read more about tour leading in Egypt
Find out more about adventure travel tour operators that run groups in Egypt.
Diving Instructor
Surely one of the most exotic life styles out there is the life of the diving instructor. Take your pick of places to work along the Red Sea, from Hurghada, Sharm El Sheikh to Dahab and Nuweiba. And if you get board of the Egyptian coral, head over to the Great Barrier Reef or the Andamen coast. Of course you need to be qualified, but with today's intensive PADI courses, it's possible to be certified and working within a matter of months.
Although the perks of the job are numerous, diving instructors don't get rich either. It is possible to make more serious money as a commercial diver. Of course you'll have to give up the warm currents, friendly clientele, and colourful coral in favour of altogether murkier waters.
Find diving jobs in Egypt
Travel Writing
Most travellers have at some time been sufficiently inspired by the things they've seen to put pen to paper or fingertips to keyboard. Wouldn't it be great if someone would pay you to jot your thoughts and insights on the exotic locations you've visited. Well if you have a decent turn of phrase, and can find new stories in old places, it's just possible someone will.
Cairo's English language newspapers and magazines have kick started the career of many of journalist and provided temporary employment to many transient travellers along the way. Or why not publish a travel website of your very own?
Teaching English as a Foreign Language
As a teacher of English the possibilities for travel are endless. Look on any related website and you'll find vacancies from Saigon to Syria, across Europe and everywhere in between.
Many private Egyptian schools are classified K-12 meaning all classes are taught in the English language. Although increasingly English teaching positions are filled by capable locals, native speakers are still recruited for many of the top private schools, colleges, and universities. You must of course have a TEFL qualification or higher, or at least be willing to get one before you set off.
Opportunities for finding teaching jobs in Egypt are always higher if you're already in the country.
Search for Jobs in Egypt
Why not volunteer in Egypt?
Any comments? Was this page useful? Please use the newly installed Facebook comment box below: