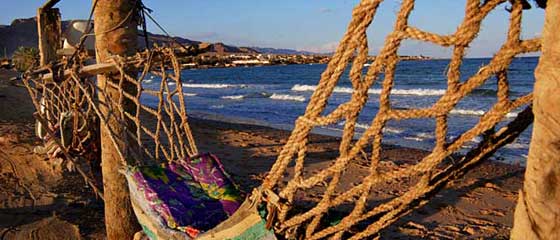 Dahab Travel Guide
With a long history of settlement in the area, prior to the 1980s, Dahab was relatively unknown to the world outside of the hippie/ new age traveller community. The Egyptians began developing the area when the Israelis withdrew from Sinai in 1982.
Despite enormous growth, the resort has remained a centre for independent travellers within Egypt, and is one of the few places where backpackers outnumber package tourists (read how to get to Dahab).
Modern Dahab is made up of two areas:
Assalah is the laid back bohemian beach resort located to the north.
Stretching around Ghazala bay it has a long promenade of cafes, campsites, restaurants and hotels. The northern end of Assalah is called Masbat and is the busier end. As you follow the coast south you come to Mashraba, characterised by well cushioned, chill out cafes.
Ghazala market runs parallel to the corniche.
All of the budget accommodation is to be found in Assalah, and it's a centre for scuba diving, snorkelling, freediving and other aquatic activities.
To the West is Dahab city. This is the administrative centre for the region and the location of the bus station to destinations across Egypt. There is a little reason to spend any time in Dahab City itself.
Why Visit Dahab?
Many visitors to Dahab opt to just take it easy, smoking shisha and eating seafood all day at the Thai style cafes and guest houses. However, the region has enough to offer to keep even the most insatiable adventure seeker entertained (see excursions from dahab).
The reliable winds here have meant that Dahab has become synonymous with wind surfing.
The area has lots of beautiful coral reefs, warm currents and marine life.
Numerous dive centres exist along the cornice that offer diving certification and trips to some of the outstanding diving and snorkelling spots in the region.
There are a number of canyons near by which provide a great day driving and trekking through the desert. Many of the hotels and travel agencies can also organise transport to and from Saint Catherine for the moonlight climb up Mount Sinai.
Any comments? Was this page useful? Please use the newly installed Facebook comment box below: