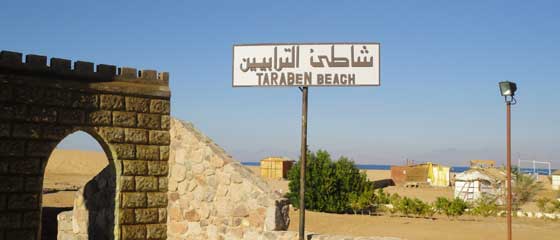 Getting to Nuweiba
Nuweiba is often a first or last stop when visiting Egypt. It is extremely accessible and well connected to other destinations within Egypt and indeed Jordan and Israel.
Buses to Nuweiba usually drop off at the bus station or the port (200m from the bus station).
As Tarabin (home to most accommodation in Nuweiba) is located a few Km further north you can either pick up a taxi from the drop off point or if the bus is continuing north to Taba kindly ask the driver to drop you off on the main road on route.
Be advised that baksheesh may be required to implement the latter of the two options.
Cairo to Nuweiba
There are daily buses from Cairo's Turgoman bus station to/from Nuweiba which run overnight or during the day and continue beyond Nuweiba to the Israeli border at Taba.
Sharm el Sheikh and Dahab to Nuweiba
Two buses per day connect Sharm El Sheikh, Dahab and Nuweiba in that order.
The journey between Dahab and Nuweiba takes approximately 1 1/4 hours and costs 11 Egyptian pounds.
The journey from Sharm El Sheikh to Dahab takes a little longer (1.5 – 2 hours) and costs around 20 Egyptian pounds
Alternatively a number of hotels in Dahab organise mini bus transfers to Nuweiba albeit at a higher price than the public bus (circa 40 or 50 Egyptian pounds).
Taba to Nuweiba
If you're coming from the resort of Taba or have just crossed into Egypt from the Israeli border you can pick up a public bus going to Cairo or Sharm via Nuweiba or vice versa. The journey takes 1- 1.5 hours.
If travelling with companions you may prefer to opt for a service taxi instead (scroll down to see section on service taxis).
Aqaba Jordan
Travelling between Nuweiba and Aqaba you actually have two options.
You can either take a ferry (prices and journey times vary depending on fast/slow ferries) from Nuweiba port across the gulf to Aqaba, or travel overland through Israel.
There are considerations with each. For example, if you wanted to get to Petra and back in a single day, you could only really do this via Israel as ferry times are less flexible.
However if you plan onward travel to Syria you clearly do not want any suggestion of an Israeli stamp in your passport.
Read a full guide to travel between Egypt and Jordan.
Service Taxis to Nuweiba
Taxis usually wait at the Israeli border (Taba) or at Nuweiba port looking to take travellers to their onward destination.
Similarly, if the public bus timings are no good for you, you can easily pick up a taxi in Dahab going to Nuweiba.
How much you pay very much depends on your haggling skills.
As a very approximate guideline only, a private car from Dahab to Nuweiba or Nuweiba to Taba should cost between 100LE – 150LE for then entire vehicle.
St Catherine's Village
You can travel direct between Nuweiba and St Catherine's Village using the Bedouin Bus service, new and improved since 2011. For full details check the Bedouin Bus Timetable.
If you only plan to travel to St Catherine's to climb Mount Sinai, you may find that operators in Nuweiba run a nightly bus leaving around 11pm and returning the following day in the early afternoon.
Any comments? Was this page useful? Please use the newly installed Facebook comment box below: