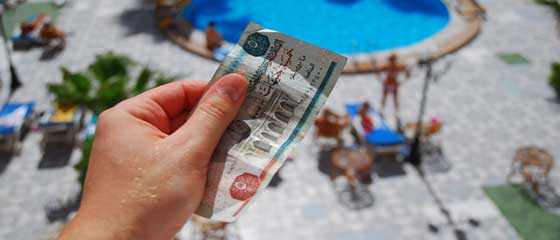 Common Mistakes Made by Travellers in Egypt
Sanity Saving Tips for Your Travels
First time visits to any foreign land usually incur a few 'travel mistakes', events that we instantly regret and that needlessly absorb our money, time, health or sanity.
In order to reduce the loss of all of the above, here at Alternative Egypt we have compiled a list of the most common mistakes (and how to avoid them) made by travellers in Egypt.
It's by no means an exhaustive list. Any additional sage advice is welcome and maybe included by using the comment box at the base of the page.
#1 Visa On Arrival – Avoid the travel agents
For the time being it remains cheap and simple to obtain a visa on arrival for UK, European and US passport holders.
The visa (a simple sticker affixed into the passport) should always be purchased at the official rate from the bank kiosk inside the airport.
At a number of airports within Egypt (including Sharm and Hurghada), prior to reaching the bank kiosk the traveller is first presented with a row of travel agent kiosks each of which sells the exact same visa at a higher rate.
It's easy to assume that these are the official visa outlets and the agents that man the desks play upon this fact by beckoning you over.
Keep walking and you will eventually find the official kiosk where a less enthusiastic airport worker sells the visas at the official rate.
Tip: Check the latest on visa information and prices before you go and buy from the official kiosk. The Kiosk is always before proceeding through immigration so you can always walk back if unsure.
#2 Taxis! First come last served
Upon arrival at any Egyptian airport or train station, travellers are met with a plethora of taxi transport options to their onward destination.
Drivers greet you the moment you step off the train or through into the arrivals hall and typically the price comes down the more steps you take.
The first driver to approach you is almost invariably the loudest, pushiest and most expensive cab to take, often waiting for the entire day just to collect one foreigner that they can overcharge to such an extent to have made the day a lucrative one.
The best taxis to take are the ones who patiently wait out front in a queue as they are supposed to (much like anywhere else in the world) and know to use their metres where applicable (e.g. Cairo).
Tip – Hire your taxi from the rank outside and not from the carriage door.
#3 Explore with an Egyptian
Sadly for some visitors, the only Egyptians they interact with during their stay are either their tour guides or vendors of some description attempting to sell them souvenirs or excursions.
Egyptians are wonderfully hospitable people and no one makes a better tour guide than a local showing you their favourite park or café.
Couchsurfers.org – originally conceived to offer travellers a free place to stay – now acts as a wonderful mechanism for introducing travellers to locals with whom to share lunch or a coffee.
You can search by destination and find both men and women with whom you might want to meet during your trip.
Often these brief encounters can 'make a trip', not to mention lasting friendships.
Tip – Make contacts before you go!
#4 If in doubt, haggle!
Bartering is part of the fun in almost any financial transaction Egypt.
However, it's not unusual for first timers to feel uncomfortable asking for a reduced price over and over again.
Aside from saving you lots of money during the course of your visit, haggling makes for great interaction and if conducted properly – lots of laughs.
Tip – Read the Guide to haggling in Egypt and learn to love it
#5 Personal Hygiene – Show me the money (and then wash your hands)
Travellers are pretty well schooled on personal hygiene these days with the ubiquitous anti bacterial hand gel an increasingly common piece of kit.
Egyptian currency includes some of the oldest, dirtiest notes in existence and travellers too often overlook these as potential sources of contamination.
For example, sometime we wash our hands before a meal and then buy a postcard while sitting at the table before grabbing some bread with which to spoon up that last lick of hummus.
Tip - Wash your hand as often as possible and before eating anything (particularly if you have just handled the cash)! Read the guide to staying healthy in Egypt.
#6 Dealing with Touts – Don't!
Touts are middle men who engage with tourists and offer them products and services as though they themselves are the provider.
In reality - once a price has been agreed - they will then lead the tourist to the actual provider from whom they acquire a commission on the sale.
Dealing with touts is therefore a more costly and often frustrating experience for the traveller.
Tip - Ensure you always deal directly with the shop keeper, travel agent or hotel owner and if you suspect you are dealing with an 'unofficial' middle man, walk away or you'll pay more! (Read more about touts in Egypt).
#7 Overlooking Alexandria
Alexandria is arguable the most underrated city in Egypt. So often overlooked by foreign travellers, it's not known as the 'Pearl of the Mediterranean' for nothing.
Jaw dropping coastal panoramas and delicious seafood are the order of the day, everyday.
Tip - Just 2 hours on a comfortable air conditioned train from Cairo, if your schedule permits save a day or two for Egypt's second city.
#8 Not going!
And finally the biggest mistake made by any traveller is not going in the first place.
Did we miss anything?
Any comments? Was this page useful? Please use the newly installed Facebook comment box below: