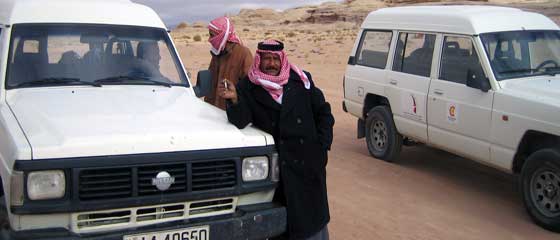 Adventure Travel in Egypt
Loosely speaking, Adventure travel refers to travel experiences abroad where the traveller engages in adventurous or strenuous activities for recreational purposes. In Egypt this includes hiking, mountain biking, climbing, camel riding, scuba diving, camping, jeep safaris, ultra marathons and many other outdoor pursuits. In other words, adventurous alternatives to more orthodox beach holidays or sightseeing trips.
Egypt's diversity means that it is possible to enjoy many or even all of these things on a single trip, while still finding time to lounge on the beach or visit the sphinx.
This website exists to promote and aid independent travel in Egypt; however you will certainly need assistance in planning some of these activities. All of these can be arranged locally or if you have less time and a larger budget, from a number of reputable adventure travel tour operators.
Ideas for Adventure Travel in Egypt
Mountain Biking – Sinai comes complete with hundreds of desert cycling trails. Take a break from the beach at Sharm for an afternoon, or take few days camping and cycling through the region. Read more about mountain biking in Egypt.
Hiking – Explore the dunes in the western desert, the coloured canyons on the Sinai Peninsular or climb Mount Sinai to admire the sunrise from its sacred summit. Read more about Hiking in Egypt
Running - Compete in the Sahara Race, one of the toughest and most unforgiving runs in the world
Camel Riding – Who doesn't want to ride a camel in Egypt? Sadly most tourists' experiences of these glorious beasts are a quick, overpriced ride around the pyramids. Get away from it all on a proper camel safari. Read more about riding camels in Egypt
Donkey Riding – So you can take a coach to the Valley of the Kings, but wouldn't it be better to ride a donkey from the River Nile into the Valley while the sunrises behind you?
Dune Buggies – Loud, noisy and dangerous, feel the adrenaline rush as your tear around the desert. Easily arrange from both Sharm El Sheikh or Hurghada.
Jeep Safaris – Get away from the city for a coupe of days, hang out with the Bedouin, cook lunch on a rock and sleep under the stars.
Scuba Diving – Egypt has some of the most renowned diving spot on the earth, famed for its eye catching coral and diverse marine life. Submerge yourself in a new world. Read Guide to Diving in Egypt
Snorkelling – Okay so you don't like getting your ears wet, or perhaps you just prefer not to be restricted by the constraints of an air tank, there's plenty to see from the surface as well. Read about Snorkelling in Dahab
Free Diving – Too hardcore for snorkelling and scuba? Make like a dolphin and descend to dizzying depths. Sinai's Eastern coast has a growing culture of free divers and free diving competitions. Lessons are available in Dahab and elsewhere. Read more about Freediving in Dahab.
Bouldering – The rocky desert landscape of the peninsular is great for scrambling and climbing around. From beginners to seasoned pros.
Hot Air Balloons – Okay so not strictly strenuous but certainly dangerous. Hot Air Ballooning is back on the Egyptian menu. In Luxur it's possible to glide over the Ramesseum Temple and the West Bank villages. Be prepared to see sleeping Egyptian waving up at you from inside their roofless homes!
Any comments? Was this page useful? Please use the newly installed Facebook comment box below: