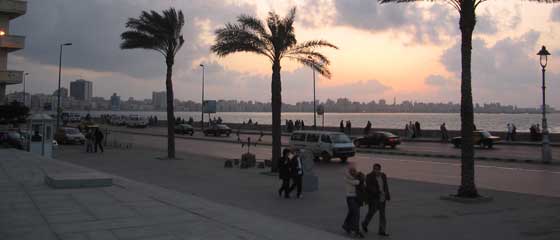 Two Days in Alexandria
Suggested itinerary for spending 2 Days in Alexandria (read more Alexandria itineraries)
Two days in Alexandria will afford the visitor enough time to explore the centre of town as well as visiting the Montaza palace complex out to the East. If you're visiting during the summer months and plan to spend some time on Alexandria's beaches, then you will certainly need more than two days in order to do this and the itinerary below.
Day 1
AM
Take a taxi or micro bus to the Library of Alexandria and begin your tour there (download pdf map of Alexandria Cornice).
Once you've visited the library, casually stroll along the cornice to the west and the fairytale fort (Fort Quaitbey) which sits at the most westerly end. The fort offers splendid views across the Med and sits on the foundations of the once great Lighthouse of Alexandria.
If you enjoy seafood, consider walking back in the direction you came from until you reach 'The Fish Market', the city's largest and most well known seafood eatery.
There are also several other more oriental restaurants within the same complex offering a range of dining options including Egyptian food.
PM
The centre of Alexandria includes a variety of ancient sites which can then be appreciated in the afternoon.
Consider visiting the single, solitary column known as Pompey's Pillar, the Roman Catacombs and the Roman amphitheatre, all of which are located fairly centrally. If you're heading back to Cairo by rail, leave the amphitheatre until last. It is located directly adjacent to the entrance of the city's main train station. You then have the evening to visit some of the pubs and bars in Alexandria.
Day 2
AM
Even if you plan to buy nothing, Alexandria has plenty of shopping opportunities and perusing the various markets is a good way to spend some hours enjoying city life.
PM
In the afternoon take a taxi or microbus east along the cornice and eventually you'll reach the large walled sanctuary of the Montaza Palace Complex.
There are in excess of 150 acres of walled gardens here and for a small fee visitors can stroll around or picnic within them. These include former palace residencies, beaches, sea views and the facilities of the some of the city's most prestigious and historic hotels in Alexandria.
Any comments? Was this page useful? Please use the newly installed Facebook comment box below: