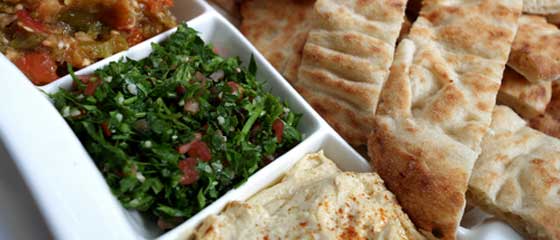 Image © Paulcowan | Dreamstime.com
Vegan Food in Egypt
Download this Free Vegan Translation Card in Arabic
Although the concept of being a vegan in Egypt will be pretty alien to most people, vegans will find themselves surprisingly well catered for on their travels.
For example, much of the Egyptian diet revolves around 'mezzes', dips and salads traditionally eaten tapas-style with pita bread. Every Egyptian city will have numerous kosheri joints and foul and falafel bars. Apart from being a recommended way to avoid the tourist multitude and get down with the locals, all of the grub served up at these establishments is vegan friendly.
Hotels will usually attempt to cater for vegetarians with varying degrees of success but may offer slim pickings for vegans. For example, Soya milk is unlikely to be an option for your corn flakes. However, you will often notice a largely neglected brass drum at the end of the breakfast buffet table, not too dissimilar to a concrete mixer. This contains foul' which comprises a typical Egyptian breakfast. The brown sludge is not normally the most appetizing sight in the early morning, but overcome that and you'll have at your disposal a delicious, nutritious and vegan friendly way to start everyday.
You can expect to enjoy the following Vegan Food in Egypt:
Foul – Mashed fava beans served with salad and pita bread. Often available at hotel breakfasts and from 'foul and falafel' bars. Want to cook it? See foul mudammas recipe here.
Falafel – Deep fried balls of mashed broad beans and/or chickpeas with dill, parsley, garlic, onion and cayenne pepper. Served as a dish or in a sandwich with pita bread. Occasionally served at breakfast buffets but always available at 'foul and falafel' bars. One of the most famous chains in Cairo is felfallas. Want to cook it? See Egyptian falafel recipe here.
Kosheri – Rice, pasta, lentils, chickpeas, noodles and fried onion, lovingly topped with spicy tomatoes source. Sounds dull right? The whole is far more than the sum of its carb-ridden parts. This is classic Egyptian grub served at Kosheri dens or from mobile kosheri vans at some beach resorts. Menus typically have three options, small, medium or large. Want to cook it? See Egyptian kosheri recipe here.
Hummus – As sold across the world but only better in Egypt. Hummus is a thick, filling dip made from mashed chickpeas, sesame paste, and olive oil. In Egypt a bowl of hummus and pita bread is a meal in itself. Available from almost anywhere that sells food (except maybe kosheri dens). See Egyptian Hummus Recipe
Tabouleh – Quintessential Middle Eastern salad made from chopped parsley, cucumber, tomatoes, spring onions and bulgur wheat. Available at most restaurants and cafés. Want to cook it? See Egyptian Tabouleh recipe
Tahini – Thick, rich, sesame seed paste served with olive oil and pita bread.
Mahshi – Assorted vegetables stuffed with rice and sometimes meat. Needless to say, if you're a vegan in Egypt, avoid the meat ones. This is great home cooking so a little harder to come by. Look for typical Egyptian restaurants.
Nut shops and fruit bar – Egypt also has a multitude of nuts shop and fruit bars selling you guessed it, assorted nuts and fruit related juices and salads. These are often sadly missed by visitors so keep your eyes peeled (no pun intended).
These are really just a small selection of what's out there for vegans travelling in Egypt. Egyptians do a zillion and one things with okra, aubergine, and courgettes most of which involve no meat or dairy products at all. If you do come across something you'd recommend, please let us know by completing the comments box below.
;
Any comments? Was this page useful? Please use the newly installed Facebook comment box below: