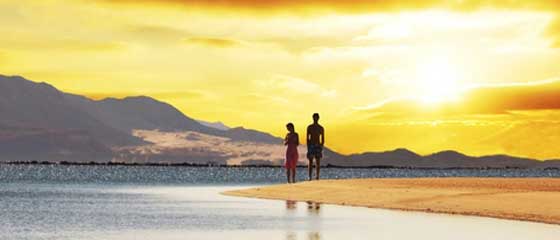 © Galyna Andrushko | Dreamstime.com
Honeymoon in Egypt
Why Honeymoon in Egypt, Honeymoon Ideas, And How to Organise Your Honeymoon in Egypt
Mark Anthony and Cleopatra's wasn't the only romance to blossom in Egypt. Each year thousands of newlyweds head for the ancient kingdom to start their new life.
And it's not surprising…
There are very few countries within a five hour flight of Western Europe that can offer the sheer variety of experience as Egypt. So whether you're idea of romance is luxury five star pampering, cruising along the Nile, watching sunrise from a desert mountain summit, or indeed all of the above, Egypt is certainly an option worth some consideration.
Why Honeymoon in Egypt?
Variety - The variety of experience one can have alone or as a couple in Egypt is virtually unparalleled anywhere in the world. From uber luxurious hotel retreats, to touring some of the world's most prodigious ancient structures, world class scuba diving, deserted beaches, outback adventure or a combination of all of the above.
Accessibility – Egypt is just a five hour flight from most Western European destinations. There are a multitude of airlines (including an increasing number of budget options) that fly to a number of cities and resorts across the Egyptian mainland and the Sinai peninsular. Sharing a land border with Israel and a sea border with Jordan also means that day trips to neighbouring countries (and sites such as Petra or Jerusalem) are also an easy option.
Affordability – With about 10 Egyptian Pounds to the UK pound (read more about exchange rates) Egypt is comparatively cheap for most European and American visitors. Five star hotels are amongst the cheapest in the world and the range of transport options makes Egypt an extremely affordable honeymoon destination.
Infrastructure – Egypt has been 'doing tourism' for literally thousands of years, and as such there exists a network of specialist providers for just about everything; from adventure sports to honeymoons themselves.
Since the infrastructure is so well developed, it's easy to travel independently and therefore organise the logistics of your honeymoon in Egypt yourself. However it's just as easy to hand the organising over to an experienced third party leaving you to kick back and enjoy the experience.
So what to do? Egypt Honeymoon Ideas (in no particular order)
Luxury Hotels in Egypt –
Egypt is home to an abundance of luxury hotels in some of the world's most unique settings. The Intercontinental Semiramis by the Nile in Cairo peers across the city and down on the now infamous, Tahrir Square.
The Ritz Carlton in Sharm El Sheikh boasts its own secluded cove, and in Aswan you stay upon a Nile island at the Movenpick.
For a full list of luxury hotels in Egypt
Nile Cruise
Cruising along the Nile between Luxor and Aswan has long since been regarded as integral to the Egyptian experience, the classic itinerary consisting of 3 days and two nights stopping en route to admire the ancient temples of Edfu and Kom Ombo.
Within the concept there are varying degrees of luxury ranging from felucca at one end (Egyptian yachts popular with adventure travel groups) where passengers live breath and sleep on deck, to five star cruise boats with en suite rooms, a swimming pool on deck and booming disco techs.
For those with the largest budgets, hiring private luxury vessels are also an option, ensuring total peace and solitude with your new spouse.
Beach Resorts
Resorts such as Sharm El Sheikh and Hurghada have long been synonymous with beach holidays and offer a range of hotels, both within the city or in secluded bays with private beaches.
For those looking for a more low key experience, Egypt has witnessed a rising trend in beach camps and eco lodges on the coastal strip between the Taba border with Israel and Sharm El Sheikh on the Peninsula's southern tip.
The lack of development here offers honeymooners vast untouched coastline and the chance to gape at romantic views of the Arabian mountains across the gulf.
Desert Camps
Not everyone's cup of Bedouin tea admittedly, but there's certainly something to be said for the romance of the desert; lounging with your soul mate besides a crackling fire before reclining under a cosy blanket of stars.
The Sinai peninsular is the heart shaped piece of land that links Africa and Asia and although the exterior is well developed, honeymooners can find seeming remoteness just a couple of hours drive from the coast.
If spending the entire honeymoon this way sounds a bit much, day trips are simple to organise and combined with watching sunset (or sunrise) from one of the high mountains in the area may provide a complementary contrast to high luxury.
Touring Ancient Monuments
Egypt is the only country that can claim to offer honeymooners a wonder of the ancient world by which to hold hands and gape at.
For those with even a passing interest in history and archaeology, the draw dropping wonders don't stop at the Great Pyramid. From Lake Nasser in the South to the coastline of Alexandria in the North, Egypt has numerous ancient sites that will leave your collective heads spinning (including 7 UNESCO world heritage sites).
And, there are more than 100 pyramids across the country, most of which never even see a tourist.
All of the Above
There's certainly no reason why you can't combine elements of all of the above in a week or two. There's so much to see in Egypt, it would be a shame to stay in a single location.
Why not tour the country, spending a night or two in each location. This way you can visit a number of the most impressive sites, throw in a few luxury hotels, escape to the desert for a night under the stars leaving enough time on the end for total relaxation on the coast perhaps with a bit scuba or other aqua fun thrown in for good measure.
How to Organise Your Honeymoon in Egypt?
D.I.Y
If you have the time - and more importantly perhaps – the energy, there's no reason why you can't organise all, or at least the major elements of your honeymoon yourself.
Plan your itinerary from home and then start by booking your flights and accommodation online.
Use review sites such as tripadvisor to thoroughly research each night stop before committing.
For day trips and excursions you could make contact with tour operators or directly with a private tour guide. Ensure you leave yourself some free time and if you're not sure what you might feel like doing then leave it free.
Most tours can actually be arranged locally in country if need be, but may require a little research, effort and haggling to implement.
For train tickets, ferry tickets etc it's worth buying in advance to avoid losing a day of your honeymoon because a train is full.
Book a Package
This website is usually dedicated to the principles of 'independent travel' and therefore 'doing it all yourself'.
However with something as important as a honeymoon, it's easy to imagine why you wouldn't want to leave anything to chance, not to mention keep stress levels low by outsourcing the work.
Egypt has literally thousands of tour operators with varying specialities. If you're idea of a honeymoon is the classic retreat pampering in five star luxuries, you may consider using a specialist honeymoon organiser.
As with all things 'wedding' related you might well expect a price attached to this.
More orthodox tour operators should have no issues coordinating your requirements, particularly if you're drawn to the idea of touring a large section of the country; as part of a group or just the two of you, with a tailor made itinerary and drivers/guides meeting you on route.
If you use an agent based in your home country you may pay more, but can benefit from having an expert through which to organise your itinerary face to face.
Additionally, European agents should be officially bonded (as in ATOL in the UK), therefore providing protection for your money should you find your airline goes on strike or a supplier goes bankrupt.
And Finally
There's certainly no reason why you can't combine elements of both of the above when it comes to organising your honeymoon in Egypt.
Whatever you opt for, just be sure to do your research and avoid the tragedy of Mark Anthony's own doomed relationship.
Other Related Travel Articles:
Any comments? Was this page useful? Please use the newly installed Facebook comment box below: