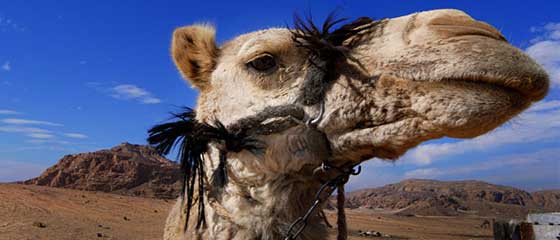 Egyptian Transportation
By Taxis, Buses, Flights, Ferries, Cruise Boats, Metro and Trains
Egypt is a cheap and easy country in which to travel. Although punctuality may not be up to Swiss standards, the country's transport infrastructure is generally good, comfortable and safe.
A number of Egyptian transportation options exist for getting around in, and between various Egyptian destinations:
Taxis
By far your best bet for negotiating the busy streets of the big cities (Cairo and Alexandria) is by taxi cab. 1 US $ will cover most short trips, and drivers usually know where they're headed.
Taxis are more expensive at the beach resorts of Sharm El Sheikh and Hurghada although ultimately what you pay depends on your bartering technique.
Some service taxis operate between cities where several travellers can share the same fare.
Read more information about travel by taxi in Cairo and Alexandria>
Bicycle
You don't have to be crazy to cycle in Egypt, but it probably helps.
Surprisingly there are a growing number of adventurous travellers who choose to criss cross much the country by bike, including the Western Desert and the Sinai Peninsular.
Read more about mountain biking in Egypt
Or follow Sonya and Aaldrik who have been cycling around the world since 2006. In the early part of 2011 they cycled across much of Egypt and have built a significant online resource in the process. What a Wonderful World
Buses
Several bus companies provide a number of handy routes that link the big cities to just about everywhere else in the country. Journeys can often take several hours longer then scheduled due to hold ups at police check points and flat tyres on the desert roads.
Accurate and reliable schedules are notoriously hard to come by but we've done our very best to compile this Guide to Egypt Bus Schedules
Trains
Egyptian trains are surprisingly efficient and comfortable with lots of leg room for the taller traveller. A two hour journey gets you between Cairo and Alexandria and provides a favourable alternative to the same journey by bus or taxi.
Sleeper Trains also run south along the Nile to Luxor and Aswan. Cosy sleeper carriages exist for first class passengers although even the seated option is almost fully reclinable.
Cairo also has its own well connected metro network, and Alexandria can be easily navigated by tram. In both cases, fares are laughably low, and carriages are mixed sex or women only.
To view complete Egyptian train timetables click here or to read more about National Rail Travel.
Ferries
A ferry service links Hurghada with Sharm El Sheikh and takes just one and a half hours (although this varies). The same journey by car will take a minimum of 12 hours.
The ferry is therefore the fastest and most comfortable way to/from the mainland, and allows the independent traveller to plot a circular route between Cairo, Sinai, and the Upper Egyptian cities or Luxor and Aswan. Read about other Best Itineraries>
There is also a fast ferry service between Egypt and Jordan and Egypt and Sudan in the South.
For more details read about ferry travel in Egypt>
Cruise Boats and Feluccas
A slower but infinitely more rewarding way to travel North-South across Egypt or visa versa is by cruise boat or felucca. Feluccas are the classic Nile sale boats more popular with budget travellers. Facilities are usually basic and sleeping is something done communally on deck rather than in private cabins.
Cruise boats range from monstrous luxury floating palaces to rather more understated vehicles. Nile cruises can be booked through tour operators in your home country, online, or through touts (middle men) that loiter around banks of the river Nile in just about every major tourist destination.
Flights
If you're short of time or simply love planes you can easily and cheaply fly from Cairo to Luxor , Aswan , Hurghada, or Sharm El Sheikh. You can search for cheap flights in Egypt here>
Any comments? Was this page useful? Please use the newly installed Facebook comment box below: